Constant pain in the calf and foot can be a thing of the past
Premium Breakthrough Massager for CEO, Business Executive, Captain of Industry, and High-Class Individual
This amazing machine Promotes good blood circulation, quick relief from arthritis, rheumatism, helps manage diabetic conditions, fast recovery from injury.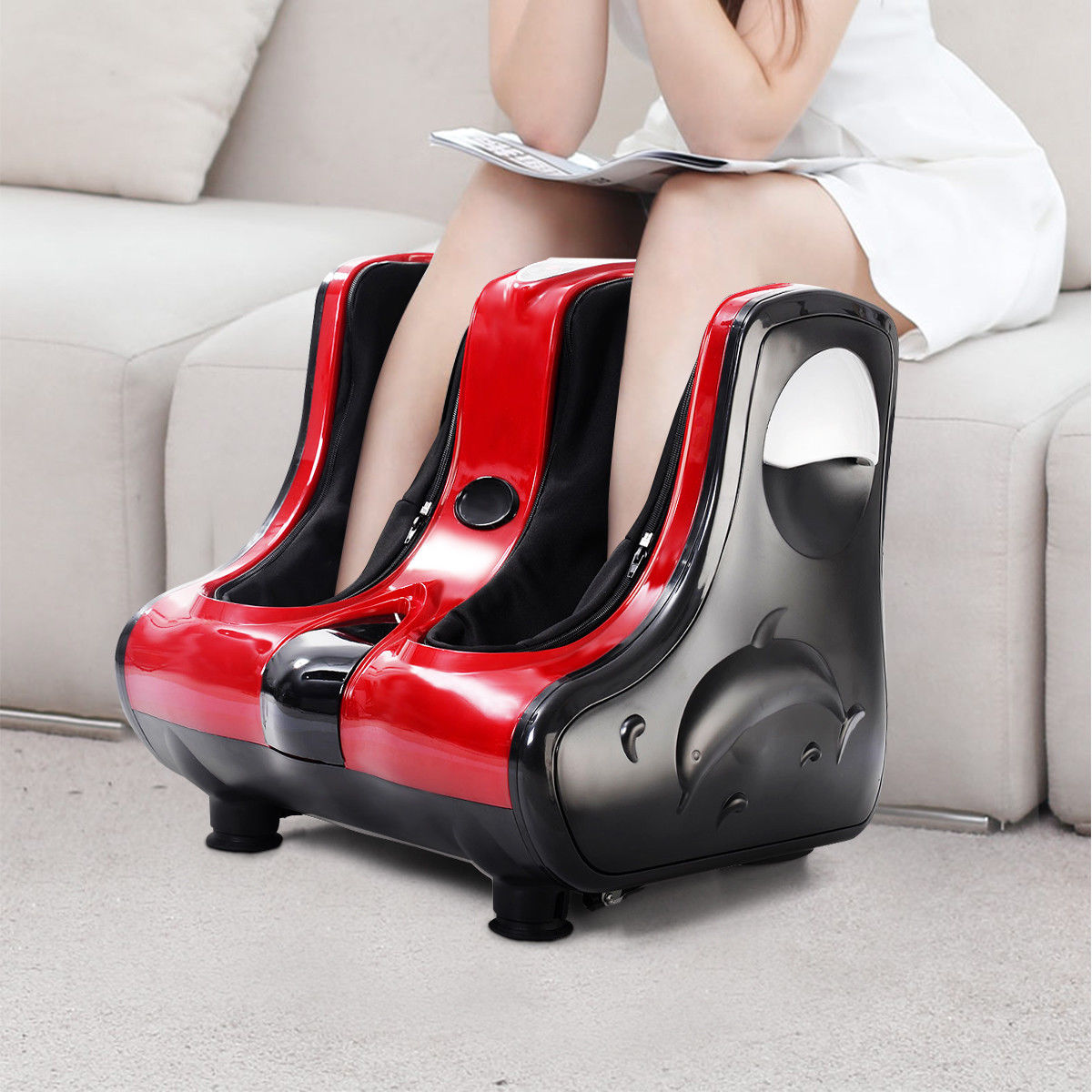 Get yours today 
N220,000
N150,000
Your Excellency Sir/Ma
Do you know that constant pain in your calf and foot can lead to poor blood circulation?
Are you aware that the calf  is your second heart?
Yes, It is because, It performs a vital role in pumping blood back to the heart, and serves
 as storage for blood that your body does not require in circulation at any given time. 
Wonderful Right
Studies have shown that some common causes that leads to poor circulation include obesity, diabetes, heart conditions, and arterial issues.
 Poor blood circulation can also lead to
lack of energy, excessive tiredness, and an inability to concentrate.

limited flow of oxygen to the brain which may lead to memory glitches.

For women, one of the most terrifying or embarrassing effects of poor blood circulation is alopecia; or hair loss.

For men, one of the most terrifying or embarrassing effects of poor blood circulation is erectile dysfunction.

cuts and sores may take longer to heal, increasing the likelihood of infection.

In the worst cases, poor circulation may require amputation of the affected limb.
Mostly, poor circulation is most common in your extremities, such as your legs and arms, the reason be that these two part of the body is far from the heart.
And y

ou have to be proactive to prevent this from happening and if you are already experiencing any of these conditions.
You can try our Premium Breakthrough Leg and Foot Massager

Because proper and constant massage therapy is a very powerful tool for your health and well-being.
It is a great way to relax your muscles and stimulates blood flow to areas that have been lacking in oxygen and nutrients
It also helps to boost your immune system, reduce stress in the body, enhance deep sleep, and relieve pains in the body.
You know with a relaxed muscle, you can improve your flexibility and significantly reduce pain caused by tight muscles.
Another thing about this breakthrough technology machine is that it has been carefully designed and manufactured by a combination of Top Asian Medical professionals and Engineers.
So you are getting the best of Asian Medical prowess and Engineering in this machine.
To clear any doubt, this premium device is quite big, easy to use, and automatically shuts down after 15 minutes.
It comes with removable fabric, allowing you to wash it at any time and you don't need to install anything.
When you place your order today, you are spending your money to buy a revolutionary product which in the long run is  cost-effective and a proper preventive measure against poor blood circulation and foot pains
This is the perfect gift for the season especially for parents, spouses, bosses, leaders, and loved ones.
Here is the testimony from a satisfied buyer
"
It's BIG… comes in a BIIIG BOX! But it is a great purchase.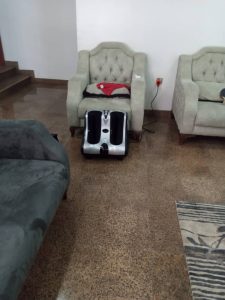 "I have major pain arthritis in the knee which is now affecting my feet as well. This massager is HEAVEN. NICE Quality, sturdy, heavy-duty. Heat takes a few mins. To get serious but it gets warm on feet. Strong rollers & the different settings are nice to have. Sometimes I will move my feet or adjust & angle them differently the best I can change where the rollers hit. I am telling you this was the best price for a message I truly need a few times a week! Helps very much! GREAT GIFT IDEA FOR SURE!"
So, Let's solve this once and for all
Are you part of the people missing out on the amazing benefits that proper massage therapy can bring?
Are you ready to experience a change in your health?
Most people only get massaged a few times a year, and those with chronic conditions, once a week or bi-weekly. Which according to research, is still not enough.
To see major results, you need frequent massages on a daily basis.
For calf and foot pain, it is recommended to get a deep tissue massage every day for 15-30 minutes within a 10 day period.
So having a premium massage like this is the right step in the right direction
You will most definitely feel as if you of receiving a massage from a specialist without leaving the comfort of your home
You can get one by clicking on the order now button below for N150,000 only and it will be delivered within 24-48 hours
Watch Video to See Machine In Action
Why Leg and Foot Massager
It help to reduce inflammation and improves blood flow
Air Compression – airbags squeezing and massaging thoroughly from calves to toes to relax your foot and calf muscle from lower to upper to relieve fatigue and improve circulation.
Massages Multiple Areas – Can Massage your Heel, Toes, Arch, Sole, and calves.
 Specific Targeting – Specifically target all areas of your feet through a variety of techniques including pulsing, kneading, and rolling
Complete massage of feet, ankles, and calves in the comfort of your home
Multiple massage Settings for healing and relaxation
3 Intensity levels to suit tenderness of muscles
Portable design with adjustable bar
Removeable Fabrics, so you wash and reuse it
 It can be used after bath, before sleep, watching TV, very convenient, simple, and effective
1. This machine delivers a powerful reflexology massage that brings the body back into its natural state to help promote the body's natural healing. It works by forcing blood back towards the heart for improved circulation.
2. Provides deep-penetrating foot massage for optimized relaxation, resulting in instant pain relief. improved circulation, quick recovery for stressed feet, and rejuvenated muscles after long periods of standing.
3. Engineered with shiatsu technology that works by circulating the blood from the feet toward the core of the body. Allows fresh nutrients to re-enter the calves and feet for increased comfort.
4. Reinforced with an adjustable tilt base that allows you to choose from two options for your perfect massage angle. Also built with removable easy sleeves for quick cleaning, so you can keep the massager hygienic.
5. Perfect for unwinding after a stressful day,  and a great gift for loved ones especially older ones.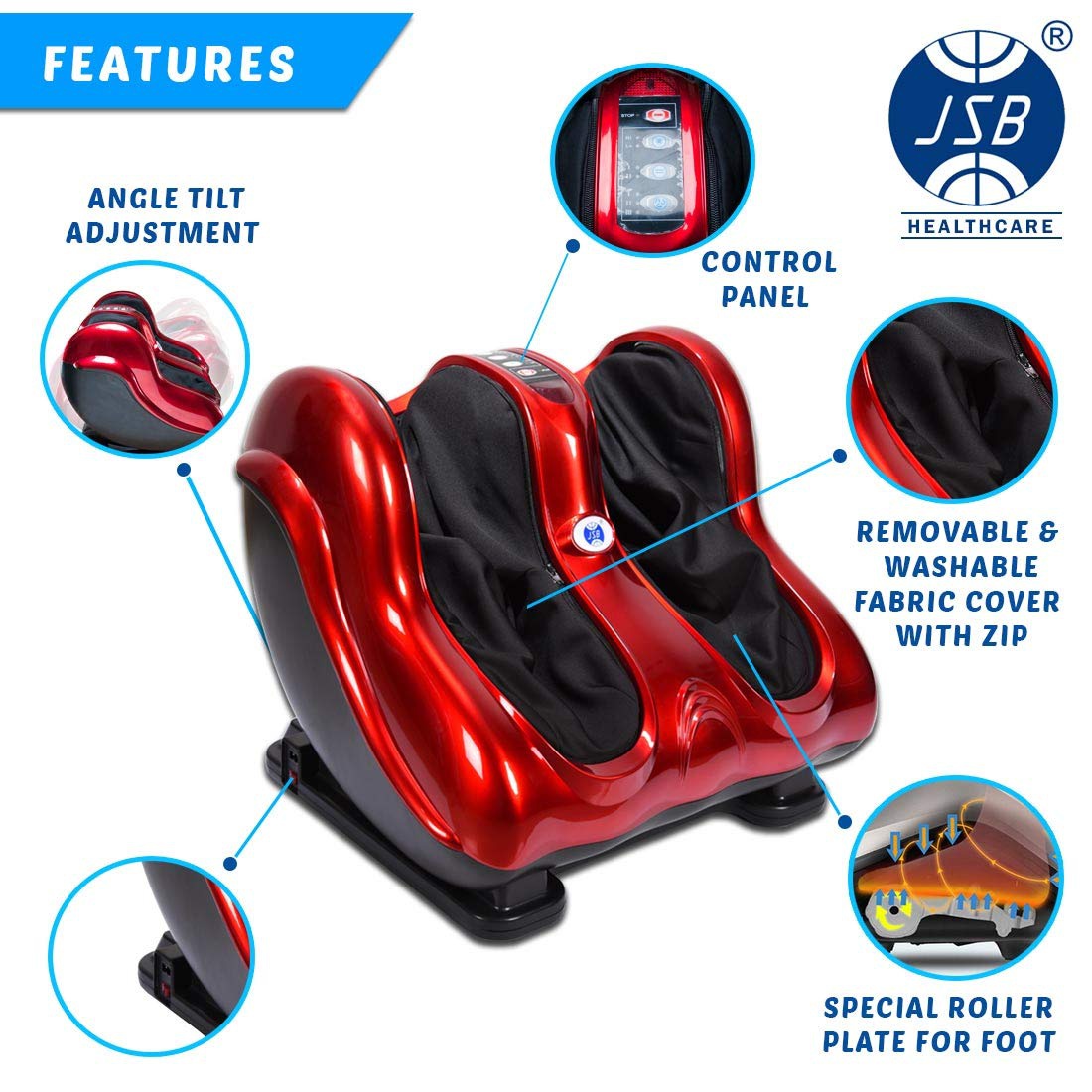 Functions of Shiatsu Leg and Foot Massager:
Improves Circulation and Neuropathy
Helps with Arthritis
Relieves Bunion Pain
Aids people with Plantar Fasciitis
Improves Flat Feet
Reduces Headaches and Migraines

Relieves minor muscle aches, pains and tension caused by fatigue or overexertion

Relieves Menstrual Pain
Lower Back Pain
Enhance Good Sleep

Energizes energy flow

Induces the Alpha wave of relaxation in our brain
Provides a unique feeling, The Chi Rush
PACKAGE INFORMATION
1 x  Leg and Foot Massager Machine
1 x Power Adapter with 60 inch Power Cord
1 x User Manual
Amazing Features and modes
15-Minute Auto Shut-Off

2.3 Levels Of Intensity


3. Zip-Out Hand-Washable Fabric Liner

4. Easy Access On/Off/Program Control Pad

5. Foot Massage And Calf Massage Can Work Independently

6. Special Roller Targets Calf Muscles, Ball, And Arch Of Foot!

7. Flexible Air-Pressure Kneading Pads Feel Like A Real Massage.

8. Effectively Squeezes And Massages Feet, Ankles & Calves All at The Same Time.

9.8 Massage Discs For Feet And 4 Discs For Calves
Price Comparison and why you should take advantage now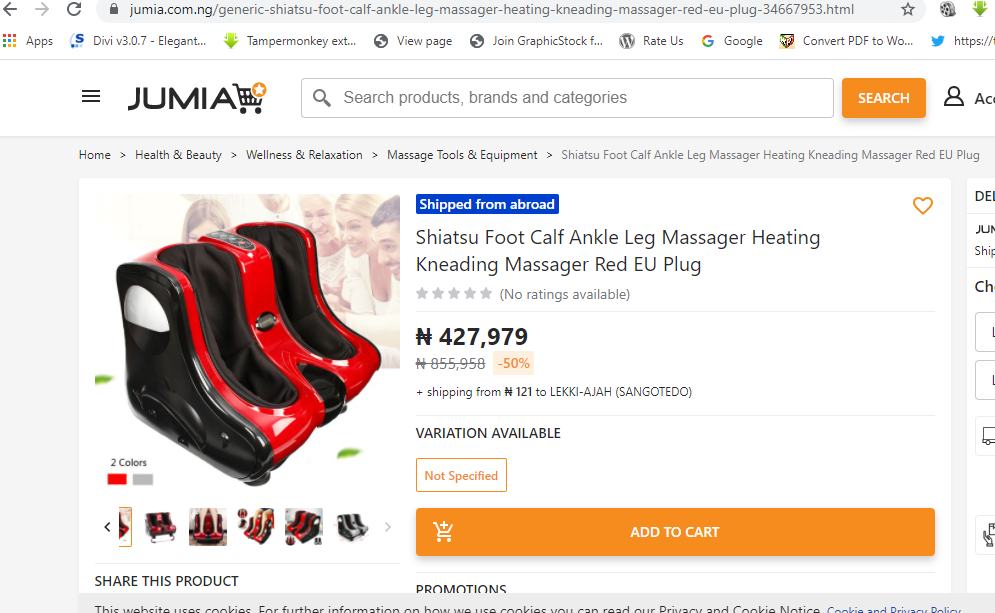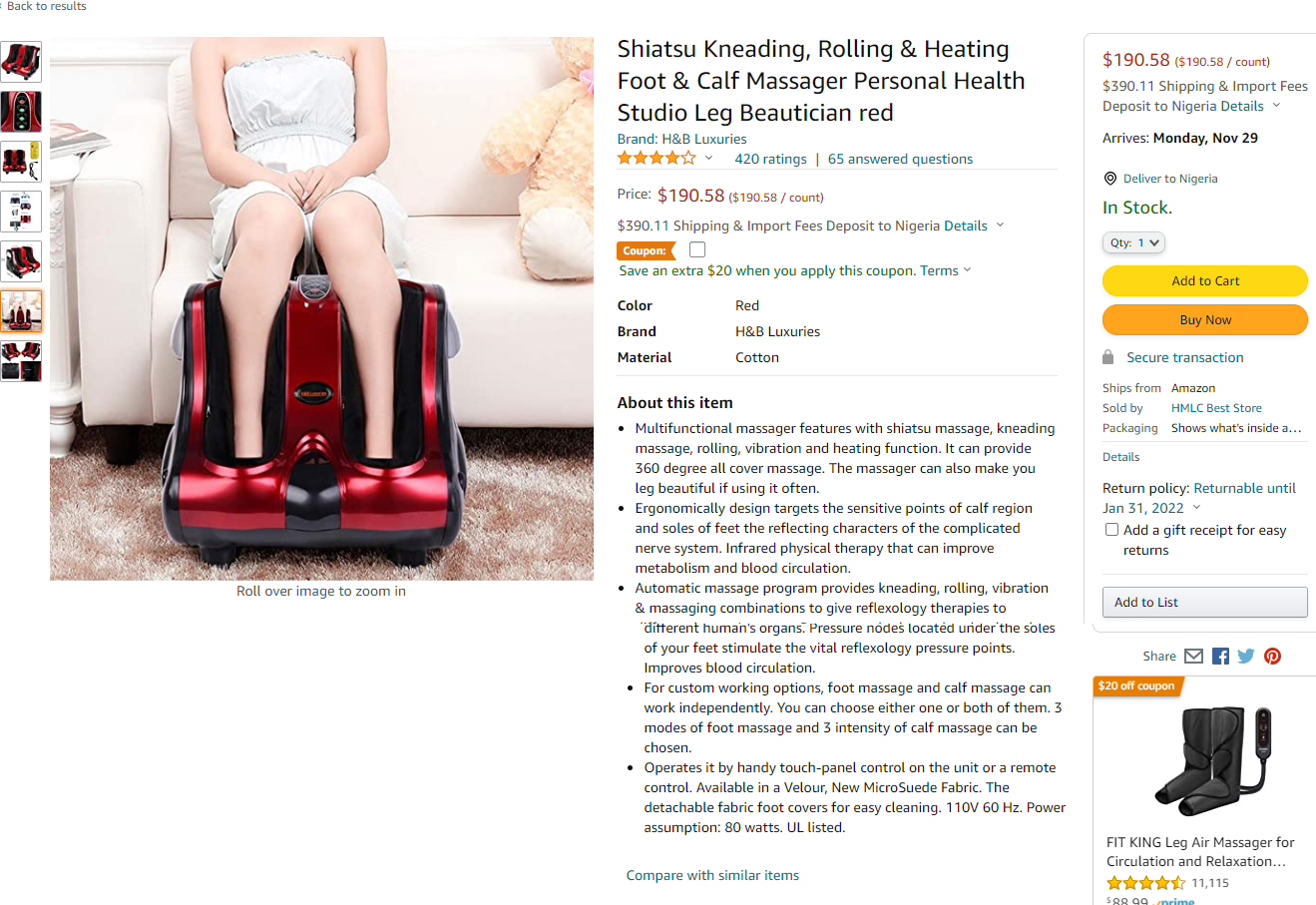 As you can see our price of N150,000 only is your best option because we are getting it directly from the sole manufacturer in the Asian Region.
To  buy on Jumia you will be paying N427,979 and to order it from amazon you will be paying $190.58 + $390.11 (shipping and import fees)

I bought this item for issues related to foot neuropathy and hoped it would help with the tingling and numbness. I have put the unit under my work desk and I use it a few times a day. Both conditions have improved since I started using the unit. I would recommend this unit as an aid for these conditions.

I've had mine for about 3 weeks or so now and all I can say is I'm seriously considering getting one for my desk at work too! I live in a 5 person household and this is definitely one of the appliances that gets used the most.
I love foot massages. I'm the person that goes to those reflexology places and ONLY gets the foot massages. This to me is the perfect replacement because of the below:
1. saves me money
2. consistency! some days you get a lady with super strong hands and other days you get a guy that just rubs your feet. This gives me the same massage every single time
3. I can do it in the comfort of my own home. Ice cream? Check. Basketball game on tv? Check. Foot massage? Check!
It's really easy to set up and use. The programs are pretty intuitive so it's really easy to get started even if you decide you don't want to read the instructions. I haven't quite figured out the difference between the restore and the revive program but I'm pretty sure I love them both.
I feel more pressure on my feet than my calves but there are tips in the instructions to get a better calf massage!
Even if you don't spend all day on your feet, it's always great to give your feet some love. This massager is the best way to do it.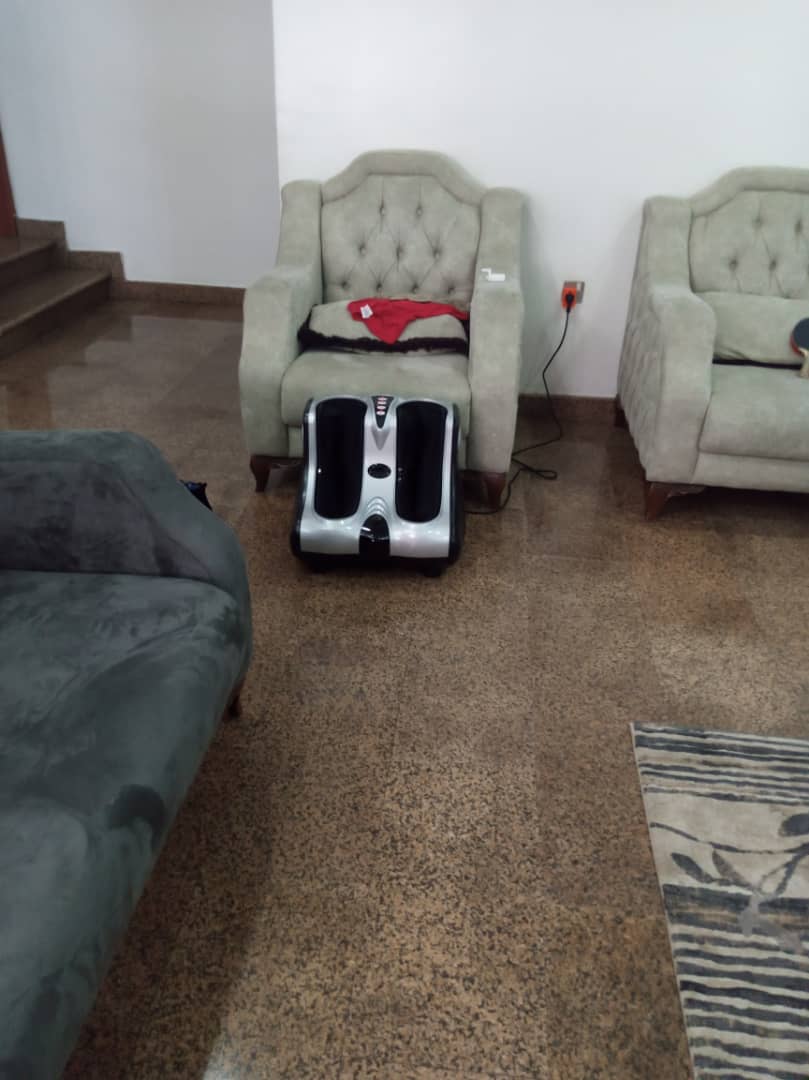 My husband and I both have painful plantar fasciitis. We need to stretch or massage our heels daily or go for foot massages to help ease the pain. So when I saw this on Amazon, I thought we should give it a try! So glad we did because it is awesome! The minute I put my feet in the unit, it was instantly soothing and relief! The circulating massage balls really dig into your ankles and calves and go around it – almost as good as real hands massaging! There are under-foot rollers that go back and forth which is perfect for my plantar fasciitis since it "kneads" into the heel and feels really good! One tip if you have small feet – I did have to adjust my foot forward because I have size 5 feet to get the full effect on my toes and heel. I just had to play with the feet positioning a bit to find the sweet spot. There are 2 settings so you can adjust the intensity, pressure and the motion. An excellent product and wish we bought sooner! Our feet are happy 🙂

I absolutely love foot rubs, but I am not able to spend every waking moment and every earned dollar at a massage parlor despite my best efforts. This shiatsu foot massager is the closest anyone could ever come to experiencing such luxury, however!
I am in love with this little robot, it fits nicely under my computer desk as well so I can relax and unwind even while seated and doing work. The multiple settings available are excellent, because they allow me to fine-tune my foot rub to exactly how much pressure I want which is often a difficult feat to manage (no pun intended). Lastly, I thoroughly appreciate that the liner in which you place your foot is removable and able to be laundered.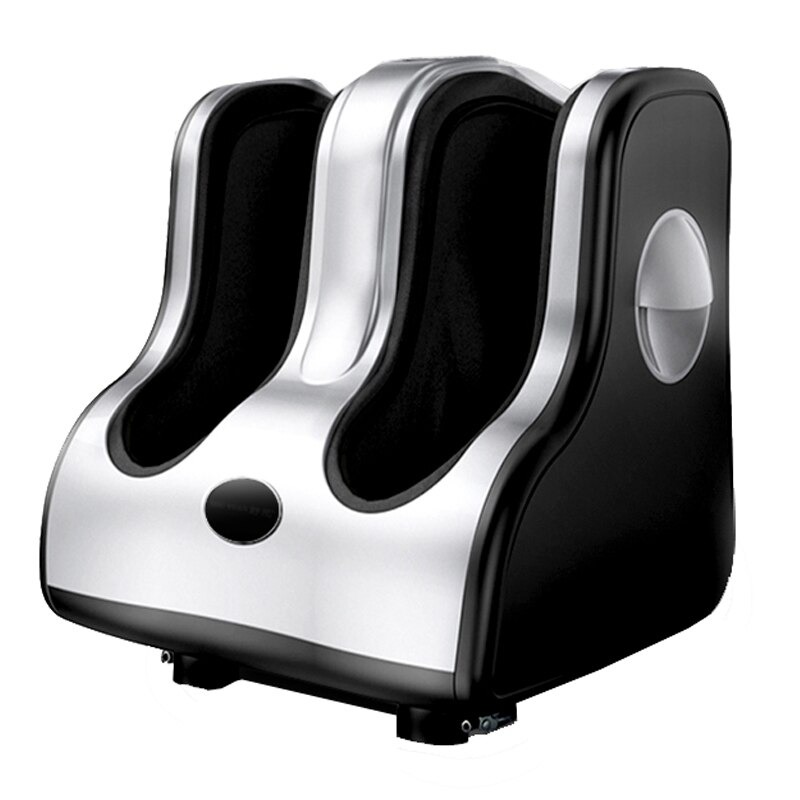 Get Your Premium Leg and Foot Massager

Satisfaction Guaranteed
 You will be getting a machine that took the combination of Asians Engineers and Professionals time to design and manufacture
Plus the fact that it is an essential home health equipment with many  benefits
However, we only have 23 of this Machine left in stock and because you're reading this up to this point we know you are really interested in your health and want a great massage device.
So, we are committed to getting yours delivered to your doorstep within 1 -3 days depending on your location for N150,000 only
Yes… N150, 000 only.
considering the price, you will get it from abroad, it is best you get it here today.
All orders are payment on delivery-which means you don't pay until you receive the product.
Don't Order if you are not ready to receive in 1-3 Working days as our Delivery services are PREMIUM
WhatsApp us for more inquiries on 08180579044
No Complain Back Money Guarantee If you do not enjoy the product
Today Price
No more N220,000
Now N150,000
We are Registered Business with RC Number: 3198855
We deliver quality Massagers, Fitness Equipment and Relief Tools.
Quality Guaranteed.
Copyright © 2019 -www.smarthomegadgets.com.ng.com All Rights Reserved | Disclaimer | Terms & Conditions | Privacy Policy
This site is not a part of the Facebook website, Facebook Inc. It is also not part of the Google Website or Alphabet Inc. Additionally, this site is not endorsed by Facebook or Google in any way. FACEBOOK is a trademark of FACEBOOK Inc, while GOOGLE is a trademark of ALPHABET INC respectively.