Is this a real watch? and why does it sell for N25,000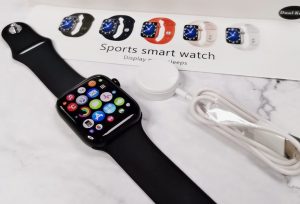 In case you are wondering the answer is yes, but this watch is a perfect copy, you already know from the price
So why are we offering it for sale? and even more importantly, why are you looking at it?
I will tell you
The watch looks good
You deserve good things
It speaks a sense of fashion and shows that you are trendy
It commands respect by mere looking at it
When your friends, family, and the opposite sex see it, they will rate you special and you feel so admired.
This is the best and perfect copy of the latest Apple watch 6
Apple Watch is worn by kings, celebrities, and businessmen. Even a whole article was written about celebrities flaunting their Apple Watch. If you care read it HERE
The point is that this kind of smartwatch will single you out and allows you to rub shoulders with the high and mighty in society.
Because you see a watch tells more than a time, it's a door opener, A conversation starter, and a deal opener.
That's why kings, businessmen, and celebrities buy them not minding the cost. A typical Apple Watch 6 price range between US$399.00 to US$1,499.00 (price taking from their website)
As a matter of fact, the special edition for those celebrities cost as high as US$17,000 and beyond
This is not a small money
That's why there is a perfect copy, for people like us
You can get one perfect copy, of this Smartwatch for N27,500, an amount your budget can accommodate easily without thinking twice about it.
The smartwatch is the latest and pro edition it is quite unbelievable for the price, it will make people approach you, like a complete stranger, saying things like wow! what a  nice watch thereby breaking any barrier between you and people easily.
Be like great businessmen/women, kings and celebrities wear the latest pro version of this series 6 smartwatch, only you and I know it's a copy and I keep secrets
😊