Portable  Steam Sauna with Head cover and a free Sauna seat 
 For Ultimate Body Relaxation, Weight Loss, Deep Sleep Detoxification, Slimming Down and Skin Glow
 …. There is nothing as refeshing as a enjoying the spa experience privately at the comfort of home anyday and at anytime.
Compact & Portable Sauna – Personal In-Home Detox Spa Steam Therapy Heated Sauna
Regular Price 

N115,220
Discounted Price N85,500
Hurry Few Cartons  left
If you can't get to the spa but want to experience the benefits of sauna therapy, we have got you covered because this indoor specially made  sauna kit comes with everything you need to get your sauna on in the comfort of your own home
Recent studies show that the use of saunas can induce positive changes in human metabolism and can have a regulating effect on the immune system and nervous system producing a heat/cold stress called "hormetic stress"
This stress hormone produced many health benefits which includes
1. EXCELLENT FOR NASAL CONGESTION
Steam saunas are great for nasal congestion. If you're struggling with a head cold and a blocked nose a steam sauna can provide some much-needed relief. Steam is a popular choice for nasal congestion relief.
2. RAPID MUSCULAR RELAXATION
Steam saunas are great for relaxing tired and tense muscles. The steam quickly gets to work soothing tired muscles. They are a great choice for your post-workout routine and can help speed up recovery.
3.LOWER RISK OF HEART DISEASE
Research has shown that sauna usage may help lower one's risk of heart disease. Heat exposure, like what one might experience in a portable steam sauna, can be thought of as a sort of workout for the heart.
4. REDUCED RISK OF DIABETES
Heat exposure, like what one can experience in a portable steam sauna, can help with reducing the risk of developing diabetes.
For example, research has shown that heat exposure can help improve obesity-induced insulin resistance. Insulin resistance is when cells in the body don't properly utilize blood glucose, leading to high levels of blood sugar.
5. REDUCED INFLAMMATION
Sauna usage may help reduce inflammation. There is promising evidence thus far to support this inverse relationship between inflammation and sauna use.
For example, one study examined 2,084 men with chronic or acute inflammation. The study found that the more frequently the men used a sauna (up to 7 times per week), the lower their level of inflammation. This was true even when accounting for a whole slew of other factors, including age, weight, smoking habits, physical activity, and more.
6. WEIGHT LOSS AND CELLULITE LOSS BENEFITS
A moderately conditioned person can easily sweat off 500 grams of sweat in a sauna-the equivalent of running three to four miles or 475 to 600 calories. While the weight of the water loss is regained by re-hydration, the calories burned are not.
According to the Journal of the American Medical Association, regular use of a sauna imparts a similar boost on the cardiovascular system as running.
7.  MAXIMUM BODY DETOXIFICATION
Clients are increasingly aware of the wide variety of toxins that may be in their bodies, including herbicides, pesticides, food additives, air pollution, and household chemicals. When ingested, these chemicals can remain in the body for years, altering our metabolism, causing enzyme dysfunction and nutritional deficiencies, creating hormonal imbalances and lowering our threshold of resistance to chronic disease.
8. STEAM IMPROVES THE SKIN
The skin is our body's largest organ and is essential in eliminating impurities. As we sweat in the portable sauna, the skin pores begin to open, and built-up sebum and impurities move out. Dead skin cells are softened and exfoliated as new softer skin can emerge.
The profuse sweating achieved after just a few minutes in your Clearlight Sauna carries off deeply embedded impurities and dead skin cells, leaving the skin glowing and immaculately clean. Increased circulation draws your skin's own natural nutrients to the surface.
9. STRESS REDUCTION – MOOD – COGNITIVE FUNCTION
The most immediate benefit of a Portable Sauna treatment is relaxation. In just a few minutes, the gentle warmth of the portable softens hard knots of stress by loosening up all the muscles and allows the clients to deeply relax in the privacy and silence of portable sauna. With the addition of our custom, dried herbal blends placed directly into the steam generator, your client will experience deeper benefits of relaxation and rejuvenation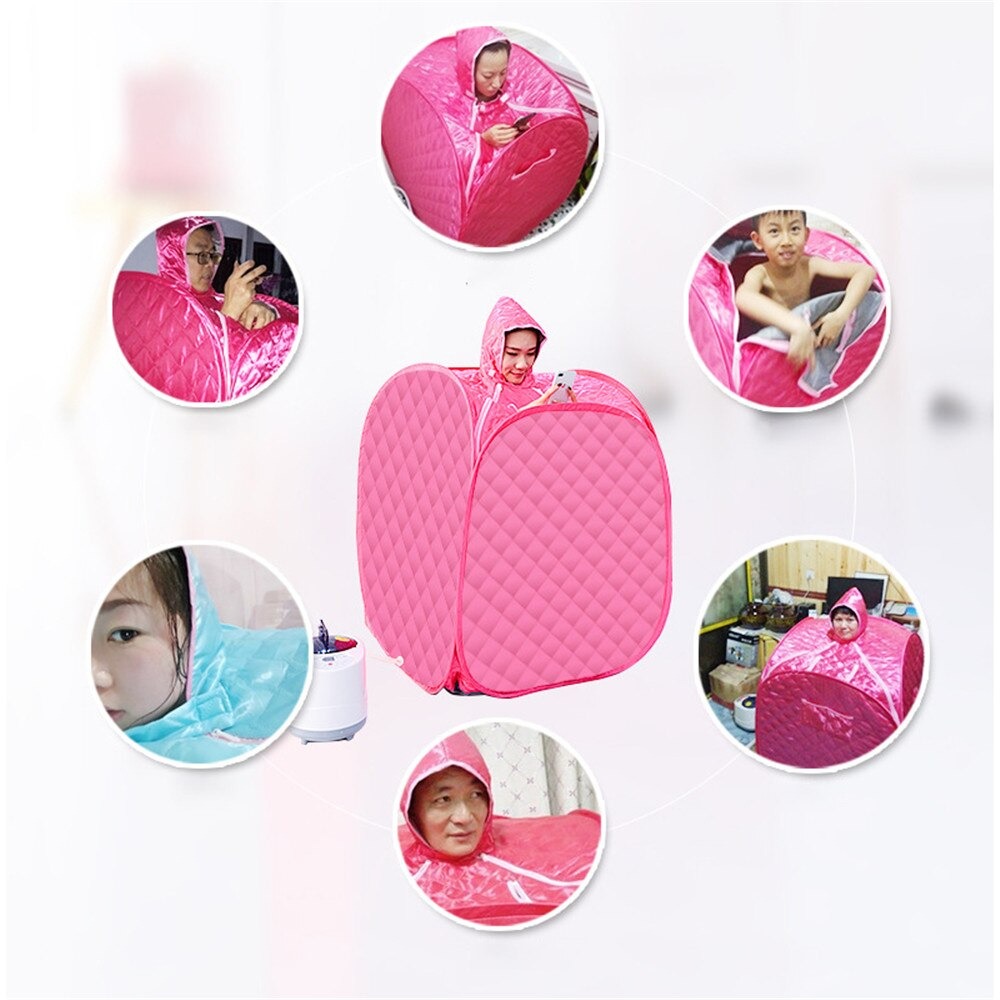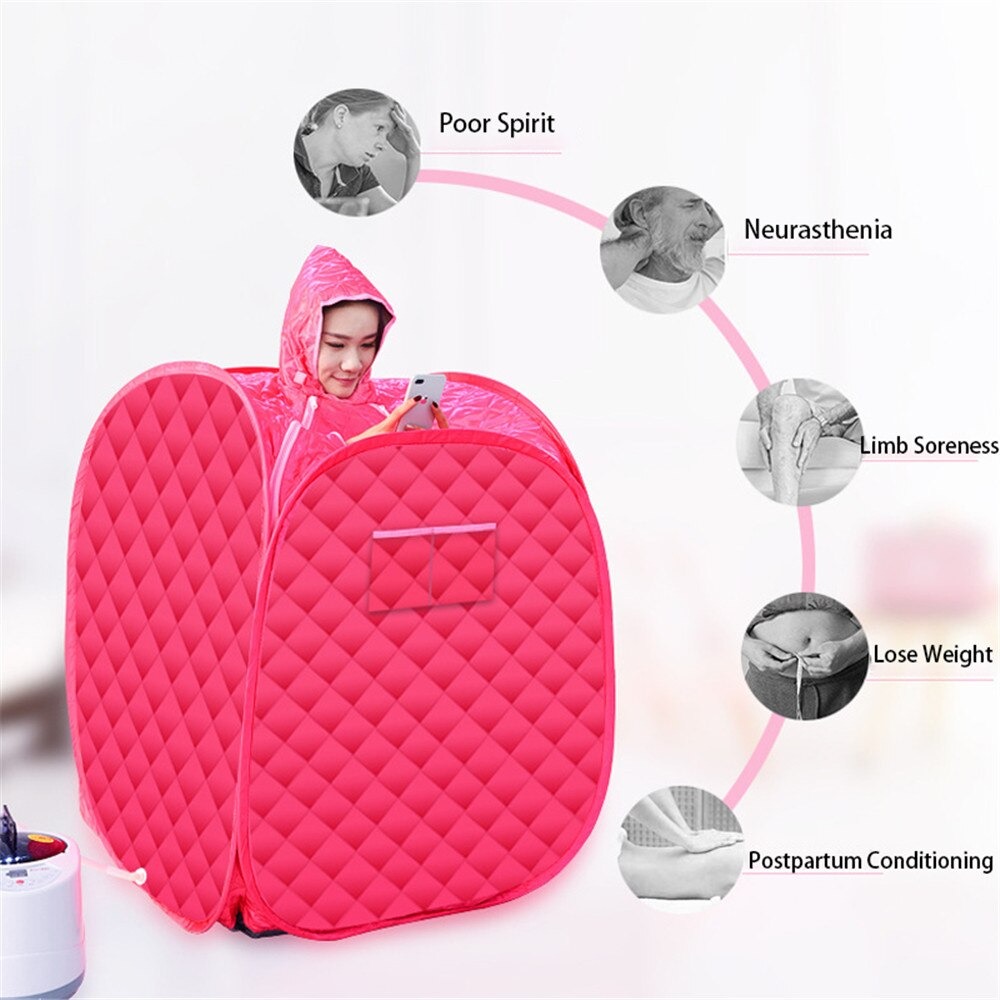 HOW TO USE THIS SAUNA
1. Setup the Sauna Suit following the Instruction on the manual.
2. Pour water into the Steam Generator to the level of the Mark (You can add any spice of your choice to the water. Please note that this is optional)
3. Connect the Steam Generator to the Power Source  through the power cord and connect it to the Sauna Suit using the steam hosePosition the seat inside the Sauna and sit down .
Remember to Zip the Sauna to your Neck region. Bring out your head in order to breathe well As the water in the kettle boils, it supplies steam to the sauna through the hose.the steam passes into the body through the pores and expels toxins out of the body.
Spend between 40 – 60mins inside the sauna and take your bath immediately to wash off the toxin.
INCLUDING-Tub tent-Electric air pump or foot pump-Steam generator-Power: 850 or 800W-1.5L or 1.8L and generate 60 min steam-Steam hose-Instruction manual
Features:
Easy Access Sit-in Steam Sauna Design
Compact Spa Size Perfect for At-Home Use
Detoxifying & Soothing Infrared Heated Body Therapy
Portable, Personal Home Sauna Style
Includes Folding Chair for Comfortable Seating
Energy & Power Efficient Design, Low-Cost Heating Sauna
Convenient Hand Access Zippers for Book/Magazine Reading
Wired Controller for Timer & Auto Heat Setting
Integrated Foot Pad Heating Mat
Used for Personal Health Care, Detox, Stress & Fatigue Reduction

What's in the Box:

Home Sauna Tent
Foldable Chair
Heated Foot Pad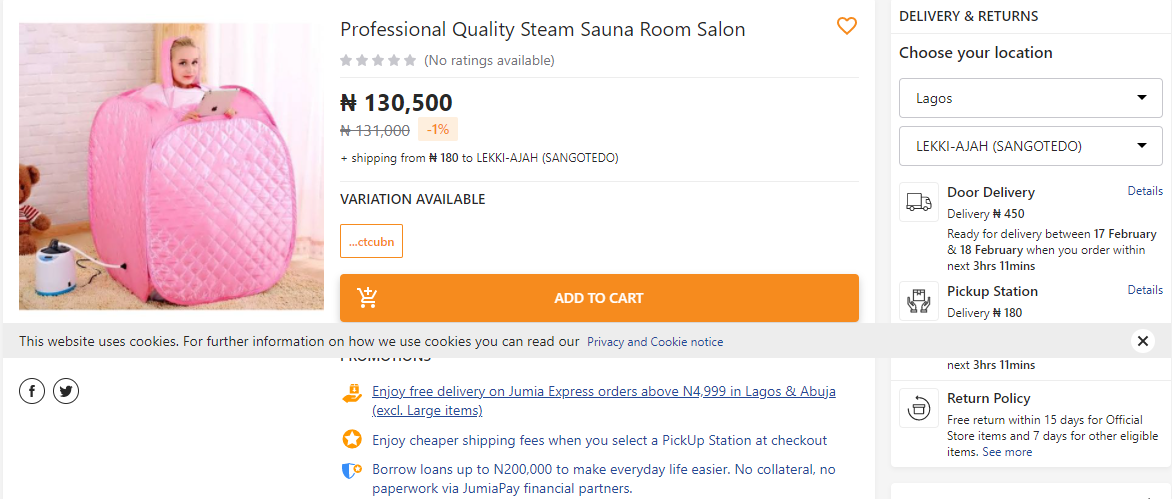 While on Jumia and konga it is sold for N89,000 – N130,000
While we are selling for just  N85,500,  because we have direct access to the manufacturer to produce the same quality at a reduced cost without lowering quality. Wonderful
Buying from our website guarantees that you will save money plus ensure free delivery and set up for most our customers
SATISFACTION GUARANTEED
I have large saunas that I paid $1,400 for that heats up in 30 minutes. This sauna is much better. It only takes 5 minutes for my sauna to heat up to the temperature I selected. Totally amazing. It is a great price for a great product.
– Amazon Review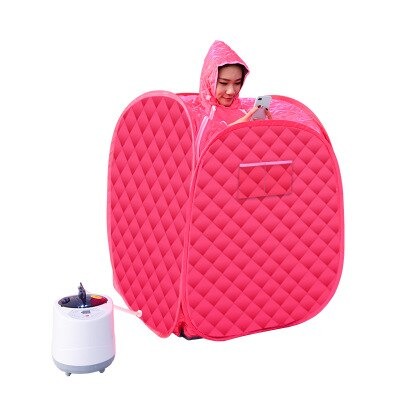 I am new to the sauna world and to be honest, the internet can be our friend and our enemy, as I learn more about the sauna online, I read stuff like, "it does detoxify your body, it doesn't, the temperature has to above a higher degree to get the full effect, you can use it every day, recommend every 2-3 times a week." So yes I am a little bit overwhelmed by it all but I'm going to go with what subtle improvements I am beginning to notice in my body and skin problems. I am suffering with leaky gut/ parasite problems, skin problems and because of that my immune system is all wack and off balance, in the time since I started using this for about two weeks now, I notice my skin is much smoother all around but especially in the three dry areas where I am have eczema problems, neck area and the two inner folds of my arms, I am beginning to notice a small difference and the big one for me is the warts (I have HPV) on my hands (9 small ones all around my hand) are starting to get smaller and smaller.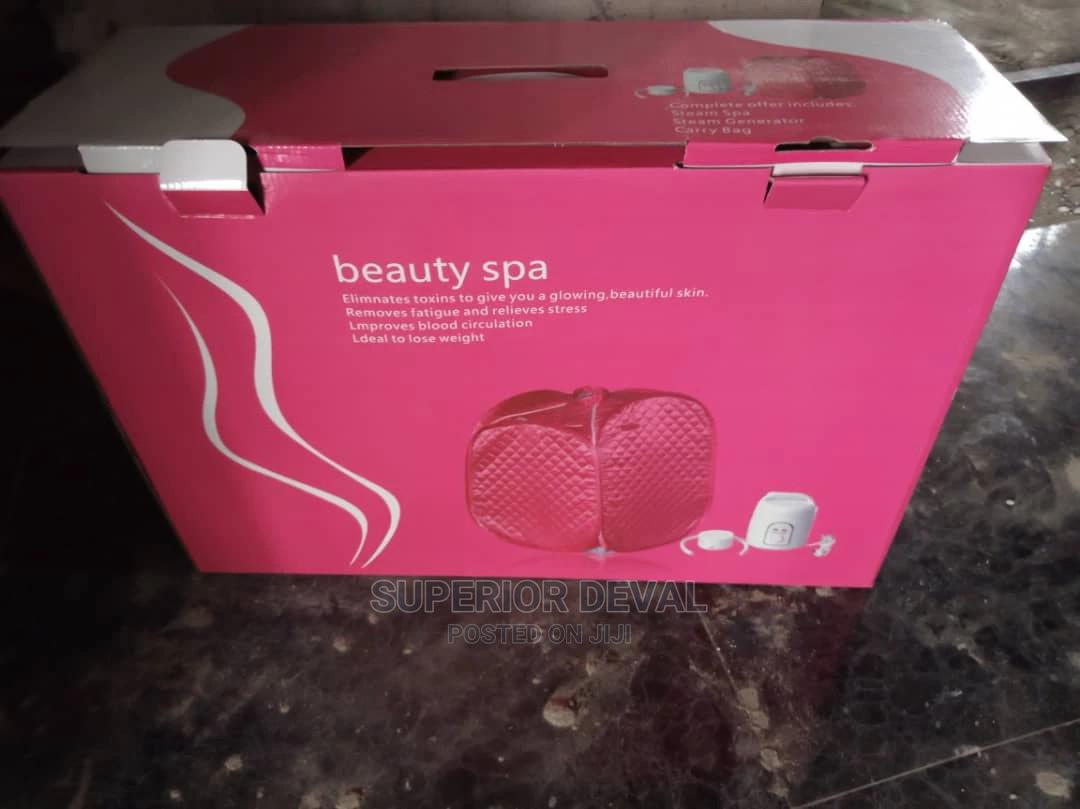 After reading about the benefits of regular sauna use I decided I would stock up on electrolytes and try to use the sauna for 30 consecutive days. I wanted to see how it holds up to daily use. I also wanted to see how my body would benefit. I'm 22 days in and here is what I know to be true so far….
1. It's very easy to set up and takedown. It honestly takes no time at all. I do it without even thinking about it.
2. It doesn't take long to heat up. By the time I get my drinks and towels, it's pretty warm.
3. It rarely gets up to 140 degrees unless the room it's in is also warm. In a cool airy room, it will stay between 122-135 degrees, depending on whether you are using the armholes to use your phone or multitask. I won't complain about the temperature because even at 122 degrees I find myself drenched in sweat.
4. I've been an insomniac all year, but after only a week into using this sauna, I can actually fall asleep without taking anything.
5. My skin looks AMAZING!!!!! I believe it's from the detoxing effect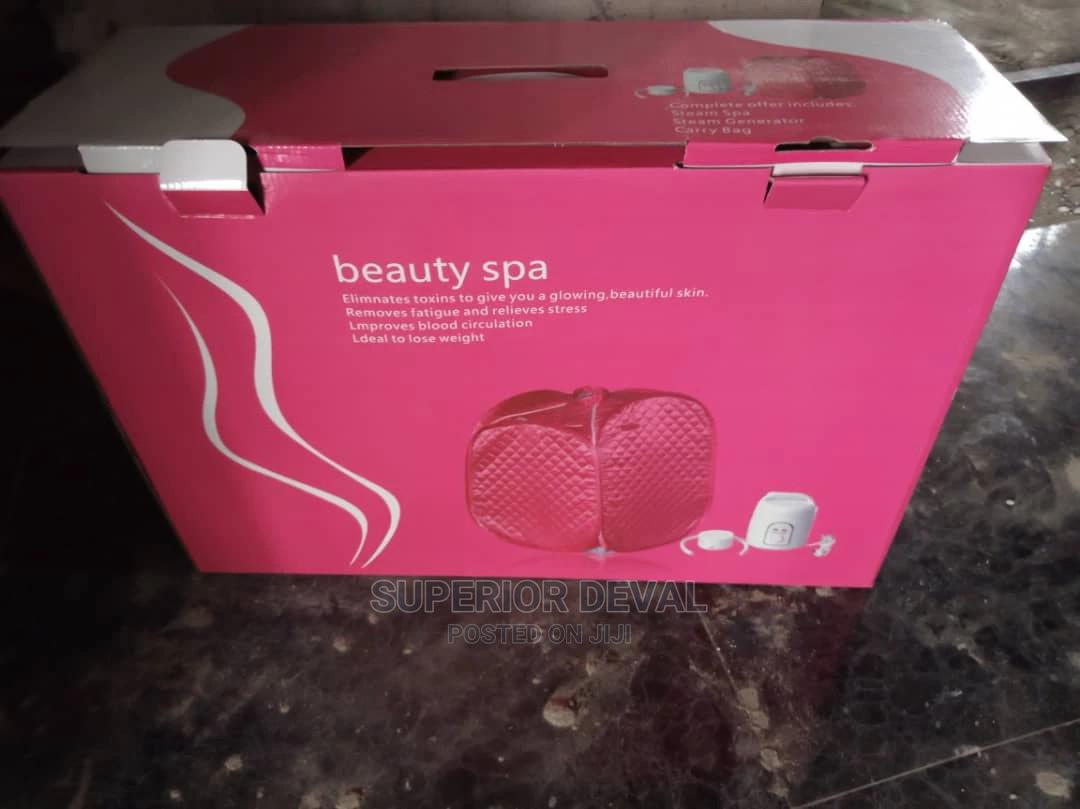 I am an international teacher, so I move to different destinations constantly— I don't own my own home— so I obviously cannot invest in a traditional sauna, hence a portable sauna is perfect for me. In addition, I have an extremely busy day, so I need a sauna that will heat up quickly. This sauna heats up in a microsecond. I spend about ten-minutes in the sauna at a time on average and then I go about doing my daily activities, so I need a sauna that will heat up quickly. However, one problem that one would have to contend with is the folding and storage of the sauna. However, the difficulty in folding and storing the sauna is a worthwhile trade-off for the high-quality of this product.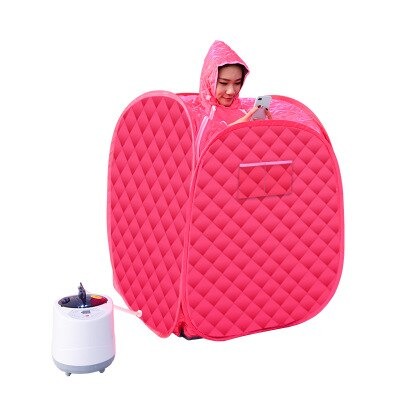 "The height fully extended is nice and tall. For such a small package, it puts out a lot of airflows. If it's less than 10m away,  and everything works really well.
ORDER FOR YOURS NOW LIMITED STOCK AVAILABLE
N115,220
N85,500
This Sauna  comes with a One Year Warranty and It is very different from the cheap fake ones out there, a trial will convince you.
Let Make you a promise, You will get your money back, if everything will advertise is not what you get, we are that sure about the quality of this product.
All orders are payment on delivery-which means you don't pay until you receive the product.
Don't Order if you are not ready to receive in 1-2 Working days as our Delivery services are PREMIUM
WhatsApp us for more inquiries on 08180579044
keyboard_arrow_leftPrevious
Nextkeyboard_arrow_right
Copyright 2020, [smarthomegadgets]–
Terms and conditions | Privacy Policy | Disclaimer
This site is not a part of the Facebook website, Facebook Inc. It is also not part of the Google Website or Alphabet Inc. Additionally, this site is not endorsed by Facebook or Google in any way. FACEBOOK and GOOGLE is a trademark of FACEBOOK Inc and ALPHABET INC respectively.