Get Your Premium, Shiatsu Foot Massager With Heat For a 30% Discount 
(Includes Free Delivery)
This professional foot massager will provide wonderful relief to your tired feet, ease tensions, and improve blood flow to all parts of the foot.
@
N100,000
N70,000 only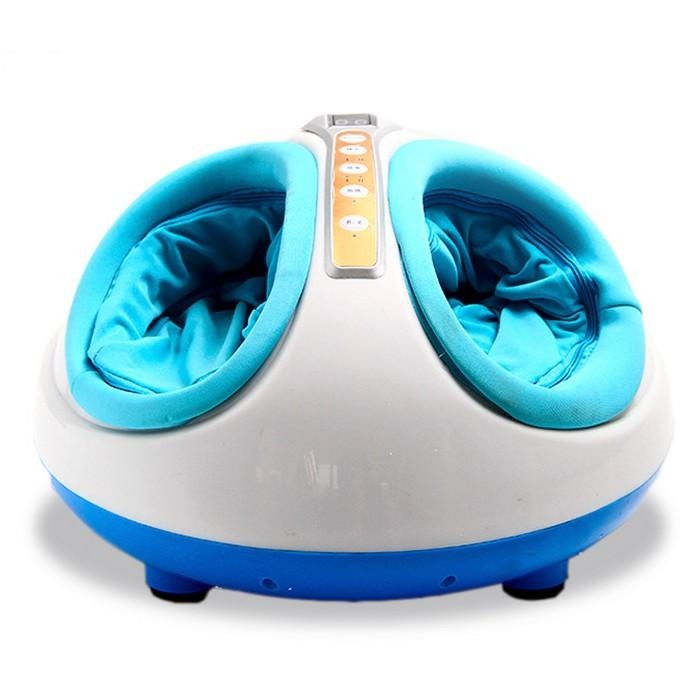 Our shiatsu foot massager is simply beyond feet treatment only, it makes the whole body feel relaxed and it revitalize one's energy.
The rotational deep-kneading nodes provide amazing relief to plantar fasciitis, chronic pain, painful knots, and helps ease stress, tension, and other aches.
As a matter of historical fact, it is recorded in Indian tradition over five thousand years ago, that foot massage is part of the relationship between guru and follower, man and wife, or friends.
According to Indian history, records of foot massages have been found in the Vedic literature. God Narajanah used to be massaged by his wife, the goddess Lakshmi. This practice was then followed by Vedic physicians for curing diseases and promoting relaxation of mind, body, and soul.
So it is a well-known fact that the proper treatment of the feet does the whole body a lot of good. Thankfully, with this foot massaging machine, you don't need to always visit an expert to get massaged or beg someone anymore.
You can get instant relief now, anywhere, and at any time.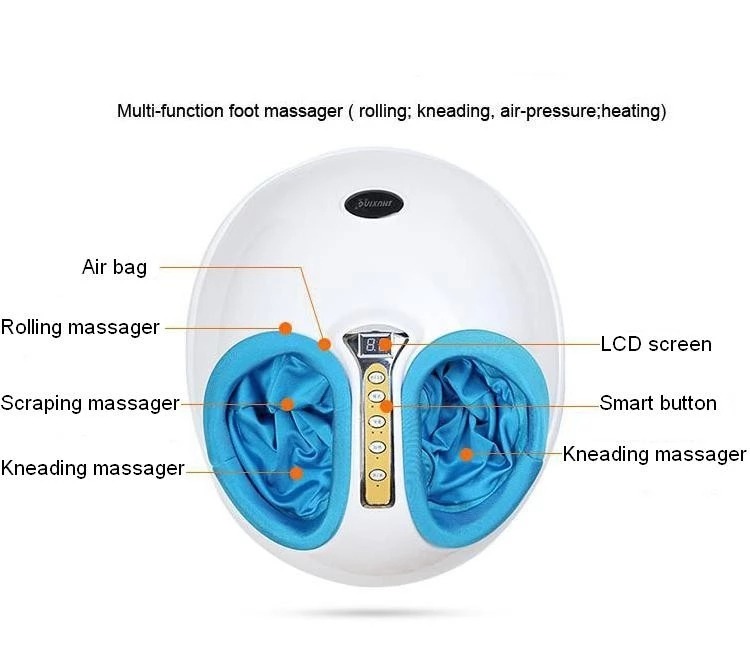 THE BEST
Multi-functional Foot Massager with multiple settings
 This professional foot massager will provide wonderful relief to your tired feet, ease tensions, and improve blood flow to all parts of the foot.

You can use the auto-timer to set the amount of time to get a soothing massage for your tired feet and improve blood circulation in your body.

Built-in Air compression technology: It has 2 adjustable intensity levels which will boost the blood circulation on your soles and feet. It works better when combined with the deep kneading massage function to strengthen muscle tissues and reduce muscle stiffness allowing you to fully unwind after a busy day

Soothing Heat Function: It is equipped with an infrared heating function to relieve tense and stressed muscles

 Whether it's a birthday, anniversary or mother's, or father's day, this is a wonderful gift that your family and friends will truly appreciate..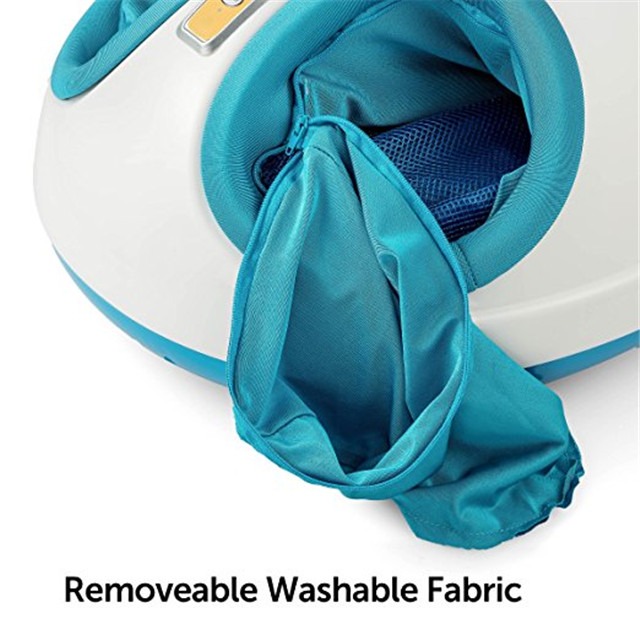 MODES 
3 MASSAGE MODES
MODE 1: DEFAULT MODE
Once the unit turned on, Kneading and Rolling Mode + Air Pressure Mode will be activated automatically in its default setting.
MODE 2: MASSAGE MODE
Press the "Mode" button once, it will change from DEFAULT MODE to MASSAGE MODE only.
MODE 3: AIR PRESSURE MODE
Press the "Mode" button twice, it will change from DEFAULT MODE to AIR PRESSURE MODE only.
FEATURES
1. Fashionable design with optional color.
2. Kneading massage from toes to heels to cover all acupuncture points.
3. Airbag massage function make you more relaxed. In step airbags to fit for different feet massage.
4.Three-level air massage intensity selected.
5. Auto working mode and manual working mode available, two auto working modes adjusted.
6. Two-level temperature adjustments: low, high temperature.
7. A pair of detachable fabric with zippers to be allowed for cleaning.
Functions of 3- D electronic foot massage machine:
1. Relieves minor muscle aches, pains, and tension caused by fatigue or overexertion
2. Increases local blood circulation
3.Relaxes muscles internally
4.Induces the Alpha wave of relaxation in our brain
5.Provides a unique feeling, The Chi Rush
6.Energizes energy flow
7.Helps from headaches and migraines.
8. Infrared heating lamps 
9. It has different mode functions as swing, vibration, and heating
PACKAGE INFORMATION
1 x  Foot Massager Machine
1 x Power Adapter with  Power Cord
1 x User Manual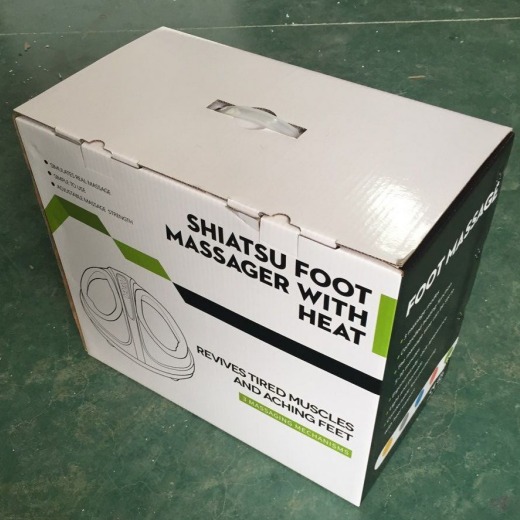 "
excellent foot massager! Highly recommend this quality foot massager. I purchased this after deciding I needed something to help as my days are spent with long hours on my feet leaving them painful and sore. Also, it gives me swelling in my knees and pain in my lower back. This massager was a miracle worker! It met and exceeded my expectations. Quality builds, easy to use, great comfort levels, variety of massages, heat, timing available, and more. The best parts of this are the heat and the types of massages for your feet. It has 3 options: physiotherapy, shiatsu, and kneeling relax."
"I absolutely love foot rubs, but I am not able to spend every waking moment and every earned dollar at a massage parlor despite my best efforts. This shiatsu foot massager is the closest anyone could ever come to experiencing such luxury, however!
I am in love with this little robot, it fits nicely under my computer desk as well so I can relax and unwind even while seated and doing work. The multiple settings available are excellent, because they allow me to fine-tune my foot rub to exactly how much pressure I want which is often a difficult feat to manage (no pun intended). Lastly, I thoroughly appreciate that the liner in which you place your foot is removable and able to be laundered.."
" Still new
What an excellent way to relax at home! It inflates and deflates like a blood pressure cuff. My favorite part is when it inflates around my ankles. It feels so good!
My shoe size is women's 7.5"
"I have been hunting for a good foot massager ever since my trip to Tokyo and my cousin there has one which greatly helped with my foot pain every evening after long walks during the trip every day. This is the closest I've come to the same comfort and massaging ability that the Japanese massager had. Now that I'm training for a marathon, I spend 10-15 mins relaxing my feet and getting some pain relief after every long run. My feet thank me!"
Our Promise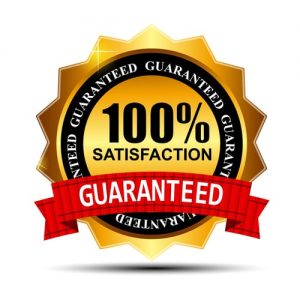 FREE NATIONWIDE SHIPPING ON ALL ORDERS
HASSLE-FREE DOORSTEP DELIVERY OF YOUR PRODUCT
12 MONTHS WARRANTY ON ALL PRODUCTS
PAY ON DELIVERY 100% SAFELY AND SECURE
MONEY BACK GUARANTEE 
Todays Price = N70,000
REGULAR PRICE: 100000
Copyright 2020, smarthomegadgets.co]–
Terms and conditions | Privacy Policy | Disclaimer
This site is not a part of the Facebook website, Facebook Inc. It is also not part of the Google Website or Alphabet Inc. Additionally, this site is not endorsed by Facebook or Google in any way. FACEBOOK and GOOGLE is a trademark of FACEBOOK Inc and ALPHABET INC respectively.