A Professional Foot, Calf, Hand, Arm Massage for CEO, LEADERS,BUSINESS OWNERS AND HIGH CLASS INDIVIDUAL
Discover How This Breakthrough  Massager Can Help Promote Good Blood Circulation, Relief Leg and Foot Pain, Aid Sleep, Ease Stress and and Total Relaxation of the Body
Where has this thing been all my life?! I have 3 other foot massagers that dont even compare to this. I was very hesitant to buy after the reviews I had read such as people saying it hurt really bad, or broke in a few days. I have had this for 2 weeks, and it is what was missing in my life. I can sit here for an hour letting it do its thing to my sore, tired feet. It does not hurt at all. 
Review from Amazon
 Get yours today 
N122,800
N100,000
Your Excellency Sir/Ma
Have you ever consider enjoying premium massage therapy at home without the help of a spouse or calling for a professional masseur?
Especially, if you are a top executive, business man or a leading politician, the importance of a proper massage therapy cannot be over stressed.
Many studies show therapeutic massage can help improve circulation, relax soft tissues, trigger the release of hormones like serotonin.
Much more than that, proper massage therapy can translate to a better attitude, better attention span, better pain management, and best of all, better sleep.
Top medical expert reveals that most people only get massaged  few times a year, and those with chronic conditions, do get it once a week or bi-weekly. Which according to the many journal it is not enough.
What about getting to treat yourself to a wonderful massage daily?
Because daily massage can help in relaxing your muscles and stimulating blood flow to areas that have been lacking in oxygen and nutrients
It also helps to boost your immune system, reduce stress in the body, reduce high glucose in the body, enhance deep sleep, and relieve pains in the body.
Everyone should constantly get massage therapy especially as you grow older because of the wear and tear of the body tissues.
And we have the best machine that is perfectly fit for you one for you
This breakthrough machine has been carefully designed and manufactured by a combination of Top Asian Medical professionals and Engineers.
It is quite big, easy to use and automatically shut down itself after 15 mins.
Not just that it comes with removable fabric, allowing you to wash it at any time plus you don't need to install anything for it to start functioning.
Getting one should be consider an investment because as we all need proper massage therapy especially when recovering from diabetes, stroke or any other injury.
Plus this is a perfect gift for parents, spouses, bosses, leaders, and loved ones.
Take advantage of the available stock remaining and get yours today
Watch Video to See Machine In Action
Why Leg/Foot/Arm/Hand Massager
It help to reduce inflammation and improves blood flow
Air Compression – airbags squeezing and massaging thoroughly from calves to toes to relax your foot and calf muscle from lower to upper to relieve fatigue and improve circulation.
Massages Multiple Areas – Can Massage your Heel, Toes, Arch, Sole, and calves.
 Specific Targeting – Specifically target all areas of your feet through a variety of techniques including pulsing, kneading, and rolling
Complete massage of feet, ankles, and calves in the comfort of your home
Multiple massage Settings for healing and relaxation
3 Intensity levels to suit tenderness of muscles
Portable design with adjustable bar
Removeable Fabrics, so you wash and reuse it
 It can be used after bath, before sleep, watching TV, very convenient, simple, and effective
1. This machine delivers a powerful reflexology massage that brings the body back into its natural state to help promote the body's natural healing. It works by forcing blood back towards the heart for improved circulation.
2. Provides deep-penetrating foot massage for optimized relaxation, resulting in instant pain relief. improved circulation, quick recovery for stressed feet, and rejuvenated muscles after long periods of standing.
3. Engineered with shiatsu technology that works by circulating the blood from the feet toward the core of the body. Allows fresh nutrients to re-enter the calves and feet for increased comfort.
4. Reinforced with an adjustable tilt base that allows you to choose from two options for your perfect massage angle. Also built with removable easy sleeves for quick cleaning, so you can keep the massager hygienic.
5. Perfect for unwinding after a stressful day,  and a great gift for loved ones especially older ones.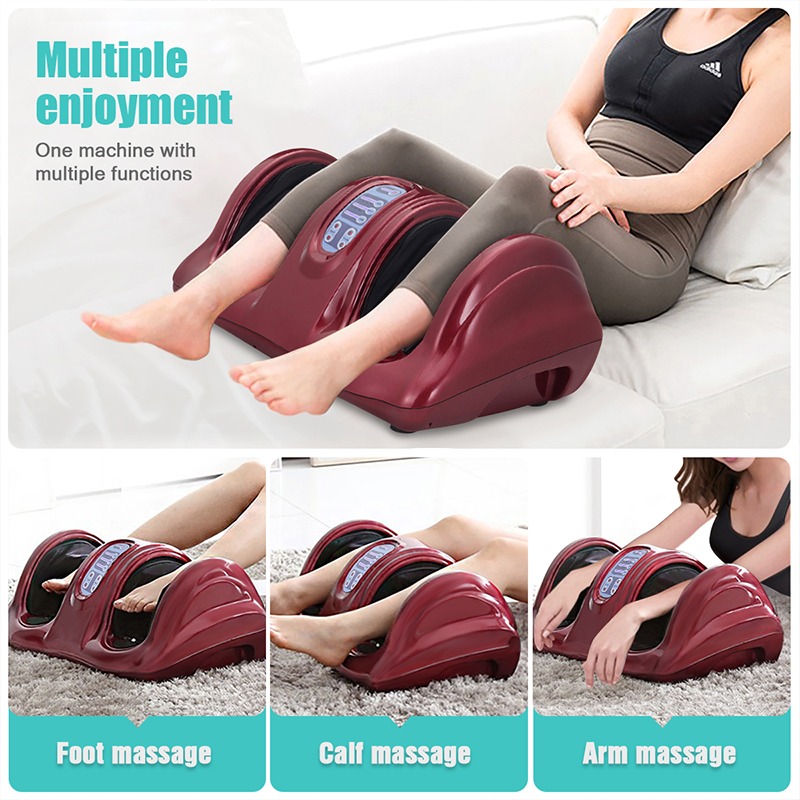 Functions of Shiatsu Leg and Foot Massager:
Improves Circulation and Neuropathy
Helps with Arthritis
Relieves Bunion Pain
Aids people with Plantar Fasciitis
Improves Flat Feet
Reduces Headaches and Migraines

Relieves minor muscle aches, pains and tension caused by fatigue or overexertion

Relieves Menstrual Pain
Lower Back Pain
Enhance Good Sleep

Energizes energy flow

Induces the Alpha wave of relaxation in our brain
Provides a unique feeling, The Chi Rush
PACKAGE INFORMATION
1 x   Foot Massager Machine
1 x Remote Control
1 x Power Adapter with 60 inch Power Cord
1 x User Manual
Amazing Features and modes
15-Minute Auto Shut-Off

2.3 Levels Of Intensity


3. Zip-Out Hand-Washable Fabric Liner

4. Easy Access On/Off/Program Control Pad

5. Special Roller Targets Calf Muscles, Ball, And Arch Of Foot!

6. Flexible Air-Pressure Kneading Pads Feel Like A Real Massage.

7. Effectively Squeezes And Massages Feet, Ankles & Calves , arms and Hands.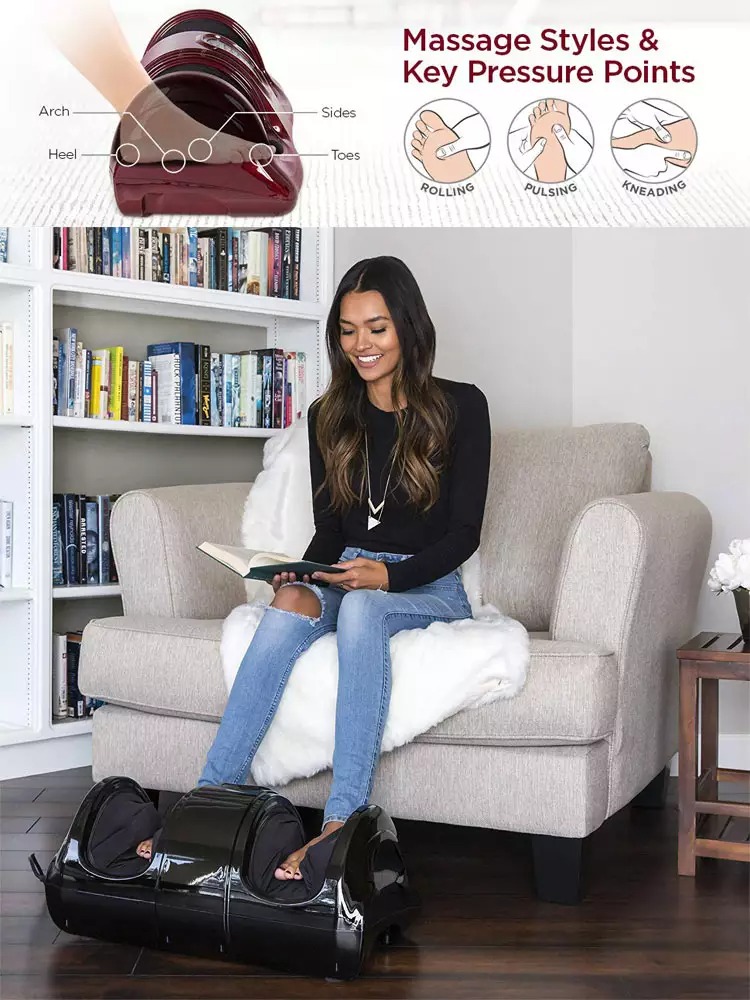 I bought this item for issues related to foot neuropathy and hoped it would help with the tingling and numbness. I have put the unit under my work desk and I use it a few times a day. Both conditions have improved since I started using the unit. I would recommend this unit as an aid for these conditions.
– Amazon Review

I've had mine for about 3 weeks or so now and all I can say is I'm seriously considering getting one for my desk at work too! I live in a 5 person household and this is definitely one of the appliances that gets used the most.
I love foot massages. I'm the person that goes to those reflexology places and ONLY gets the foot massages. This to me is the perfect replacement because of the below:
1. saves me money
2. consistency! some days you get a lady with super strong hands and other days you get a guy that just rubs your feet. This gives me the same massage every single time
3. I can do it in the comfort of my own home. Ice cream? Check. Basketball game on tv? Check. Foot massage? Check!
It's really easy to set up and use. The programs are pretty intuitive so it's really easy to get started even if you decide you don't want to read the instructions. I haven't quite figured out the difference between the restore and the revive program but I'm pretty sure I love them both.
I feel more pressure on my feet than my calves but there are tips in the instructions to get a better calf massage!
Even if you don't spend all day on your feet, it's always great to give your feet some love. This massager is the best way to do it.
– Mr Abdul Maitama Abuja

My husband and I both have painful plantar fasciitis. We need to stretch or massage our heels daily or go for foot massages to help ease the pain. So when I saw this on Amazon, I thought we should give it a try! So glad we did because it is awesome! The minute I put my feet in the unit, it was instantly soothing and relief! The circulating massage balls really dig into your ankles and calves and go around it – almost as good as real hands massaging! There are under-foot rollers that go back and forth which is perfect for my plantar fasciitis since it "kneads" into the heel and feels really good! One tip if you have small feet – I did have to adjust my foot forward because I have size 5 feet to get the full effect on my toes and heel. I just had to play with the feet positioning a bit to find the sweet spot. There are 2 settings so you can adjust the intensity, pressure and the motion. An excellent product and wish we bought sooner! Our feet are happy 🙂
– Mr and Mrs Kingsley, Satellite Town Lagos

I absolutely love foot rubs, but I am not able to spend every waking moment and every earned dollar at a massage parlor despite my best efforts. This shiatsu foot massager is the closest anyone could ever come to experiencing such luxury, however!
I am in love with this little robot, it fits nicely under my computer desk as well so I can relax and unwind even while seated and doing work. The multiple settings available are excellent, because they allow me to fine-tune my foot rub to exactly how much pressure I want which is often a difficult feat to manage (no pun intended). Lastly, I thoroughly appreciate that the liner in which you place your foot is removable and able to be laundered.
– Madam Taiye
,Get Your Premium Shiatsu Relaxation Massager

Satisfaction Guaranteed
You will be getting a machine that took a combination of Asians Engineers and Professionals time to design and manufacture, It also has global patents in more than 25 countries
Plus the fact that it is an essential home health equipment with many benefits
However, we only have few of this Machine left in stock and because you're reading this up to this point we know you are really interested in your health and want a great massage device.
So, we are committed to getting yours delivered to your doorstep within 1 -3 days depending on your location for N100000 only
Yes… N100,000 only.
Note that this machine is very rare to find in Nigeria, kindly take advantage of this stock and get yours today
All orders are payment on delivery-which means you don't pay until you receive the product.
Don't Order if you are not ready to receive in 1-3 Working days as our Delivery services are PREMIUM
WhatsApp us for more inquiries on 08180579044
No Complain Back Money Guarantee If you do not enjoy the product
keyboard_arrow_leftPrevious
Nextkeyboard_arrow_right
We are Registered Business with RC Number: 3198855
We deliver quality Massagers, Fitness Equipment and Relief Tools.
Quality Guaranteed.
Copyright 2021, [executivemassagers.com]–
Terms and Conditions | Privacy Policy | Disclaimer
This site is not a part of the Facebook website, Facebook Inc. It is also not part of the Google Website or Alphabet Inc. Additionally, this site is not endorsed by Facebook or Google in any way. FACEBOOK and GOOGLE is a trademark of FACEBOOK Inc and ALPHABET INC respectively.