New Motion sensor WC LED 8 colors Toilet seat Night light 
No more blinding lights at night! The NEW Technology Light bowl is the perfect addition to any home.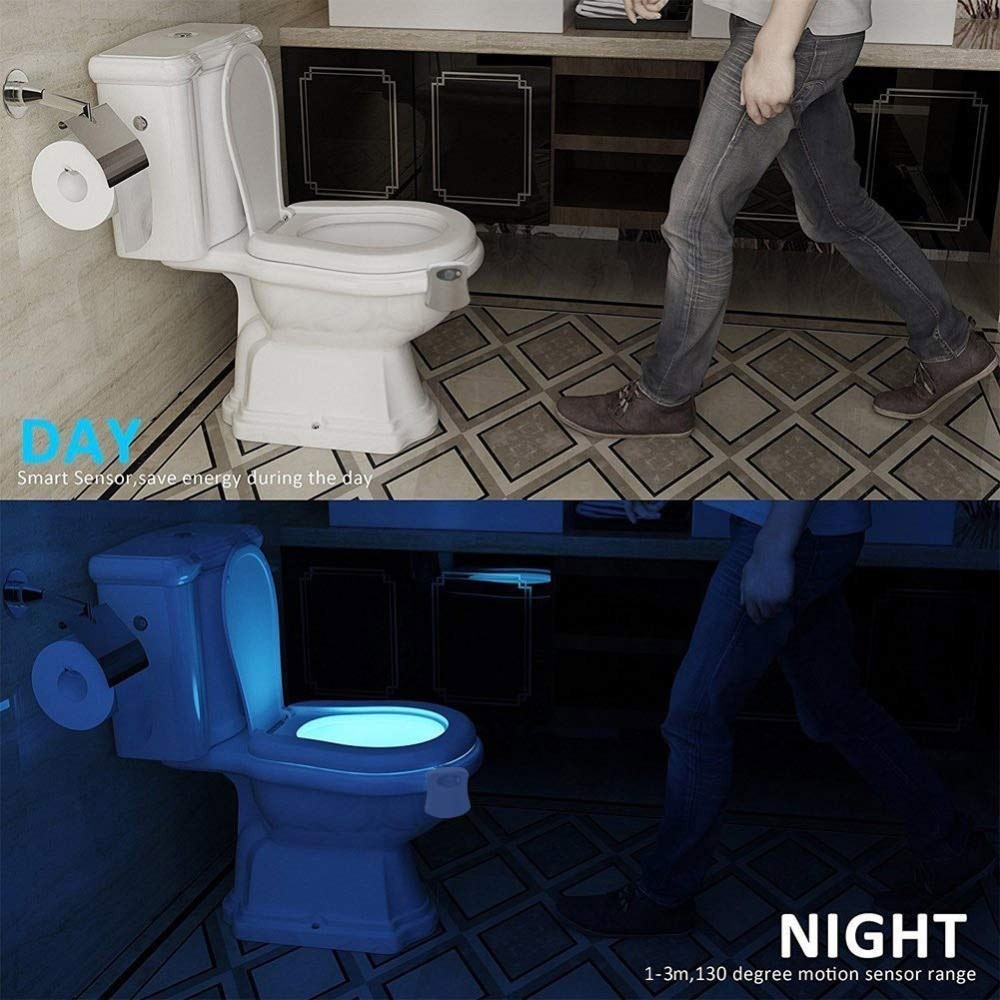 About Motion Sensor Led Toilet Seat Night Light
Motion Activated-The light will auto turn on once the precise sensor detects the movement within 5FT, and it will auto off once you leave, no hassle for finding the light switch, no more stumbling at night. (ONLY work in the DARK !)

Easy to Operate-No any tools required to assist the installation and remove, just snug it on the side of the bowl as you need, easy to take it down in seconds. 3*AAA batteries(NOT INCLUDED) can activate the motion sensor.

8-Color Changing: -Total 8 different colors and 2 light settings that you can choose from. Cycle smoothly through all the colors, or you can pick a single color by a simple pressing the button. Your child will never wake you up at night, just to let you accompany them to the washroom.

Fit for Any Toilets-Considering that the versatile shapes of toilets in market, the toilet night features in a flexible and bendable PVC neck for fitting different configuration of toilets, keeping it in place tightly.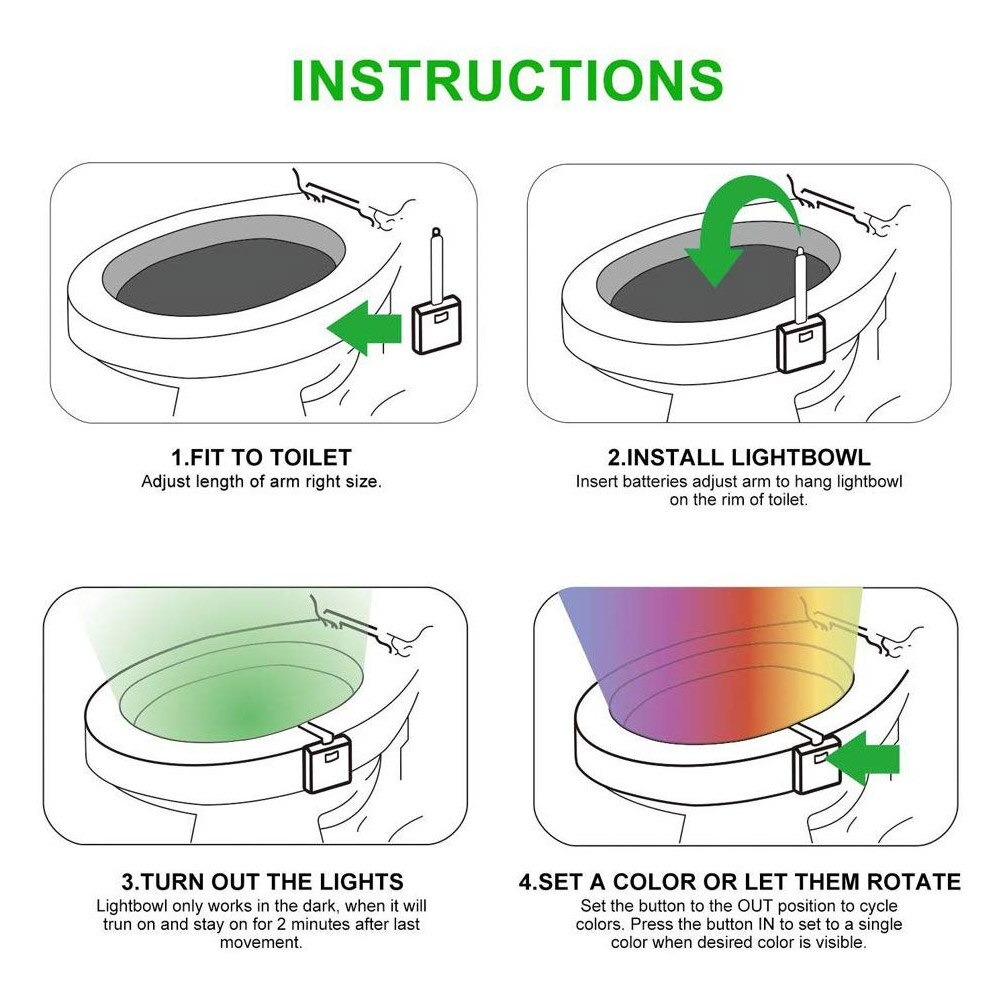 Product description
Smart & Waterproof Motion-Activated Sensor Light
The sensor will auto on once you walk close to the device, It gets better results when facing the door. Waterproof material can resist the splashed water.
8 Colors & 2 Light Modes— A Bright Decoration for Your Washroom
It has a single-color mode or  8 color rotation mode, the light is bright when you walk into the bathroom at midnight. Light your way in the darkness
NOTES:
During the day or when the light is on, if you install the batteries, there will be a red flash, which is system detection. But because of the photosensitive resistance, the toilet night light won't work immediately. (Only work in the Dark).
If the toilet bowl light is under color changing condition, and you want to set it as one single color, please press the button once, then it will stay at the color that you want, and it will be the same color when the toilet night light works next time. If you want it color changing, please press it once again to recover color cycling.
What Customers are Saying
Very simple and nice product. It works great. It changes many different colors and is very vibrant. It's a pretty good alternative for a night light in the restroom.
This little thing serves its purpose well. It is super bright and the motion detector works very well. I haven't had it super long, so, we will see how the battery life really is. I would recommend it, though regardless!
I was poised to be disappointed by this product and was very greatly pleased. It was as easy and 1,2,3. No installation or anything besides inserting the battery and place under the toilet seat. My little 4 years old loves it. 
GET YOUR SMART MOTION LIGHT
TODAY ONLY a FEW PACKS LEFT
@
3 PCS

N25,000
N15,000
All orders are payment on delivery-which means you don't pay until you receive the product.
Don't Order if you are not ready to receive in 1-3 Working days as our Delivery services are PREMIUM
Call/WhatsApp us for more inquiries on 08180579044
Fill in the form correctly