⌚A Complete Smartwatch for Tech-Savvy and Healthy lifestyle Professionals.
This smart gadget will serve you well as a personal digital assistant making you work smarter and remember appointment easily
Good News ……… ( STILL AVAILABLE)
This premium smartwatch is selling out fast and very popular among fans due to its design, functions, and usability. People will most definitely think you are putting on the Apple Watch as this W6 latest upgrade was designed with Apple Watch in mind.
It comes in two colors Black and silver-white, Perfect for Men and Women, it has a 48 CNC processing body, with its alloy watch case giving it a gorgeous, premium look. Its body has curved edges, with a crown button on the side that works as a home button.
Notable among Its Function and Usability are:
Health Monitor Sensor
With its hi-level optical sensor and in combination of smart algorithm. The smartwatch can
monitor your heart rate,
Blood pressure monitoring, providing systolic and dystolic data.
Oxygen Level in the body
Body Temperature, it has an inbuilt thermometer for that purpose
It also has the newest sensor in smartwatches right now to help analyze your ECG.
Bluetooth Functions
Sync your smartphone to smartwatch Via Bluetooth.  To perform functions as:
Bluetooth Call Support, with its mic and speakers, so that you can answer calls directly from your smartwatch.
Sync phonebook, call logs, incoming call contacts
Get Notification from WhatsApp, SMS, Facebook, Gmail, etc.
Call Reminder, so as not to miss anything important schedule or appointment
Take photos remotely with its support for Bluetooth Camera
Control the music on your phone, play, forward, stop, and pause with its Bluetooth Music control.
Multiple Sports and Mode Fitness Tracker Ability
This W6 Series latest upgrade has a great activity tracking functions, it automatically track your movement and provide details on such as steps, calorie, distance and time. It is a smartwatch with sport tracking feature, to keep you healthy and fit.
Additional functions
Track your sleep stages with its automatic sleep monitoring check the time you sleep, you wake up, the light sleep and the deep sleep. See all the analyzation and graphs in the support app. avoid sitting too long, let the blood flow with the sedentary reminder
The smartwatch also has calendar, anti-lost, calculator, alarm clock, raise your wrist feature, multiple languages optio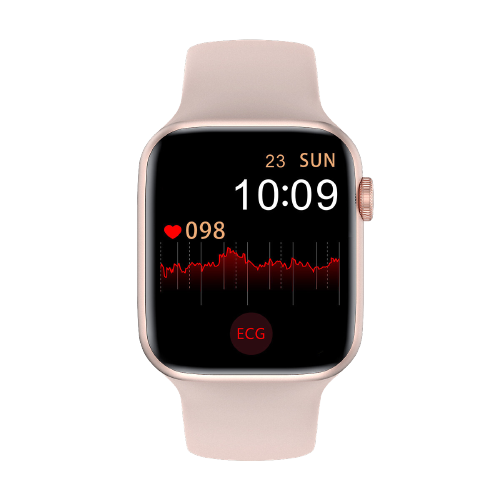 Your  ECG, Body Temprature, Blood Oxygen Level Right on Your Wrist
A raise in body temperature  is one of the earliest signs of checking our health. knowing your blood pressure and oxygen rate is vital in the times we are living all of these you can keep in measure 24/7 on your wrist.
Track All Your Exercise Activities
more than 10 Sport Modes & Scientific Sleep function.  This fitness watch supports  sport modes such as run, fast walk, pool swim, open water, climb, cycle, etc. Accurately monitor your daily activities like steps, calories burned, distance, HR, etc. Scientific sleep function helps you analyze your sleep status through recording deep sleep, light sleep, REM sleep and awake time and check out your progress using your watch and the in-app tracker.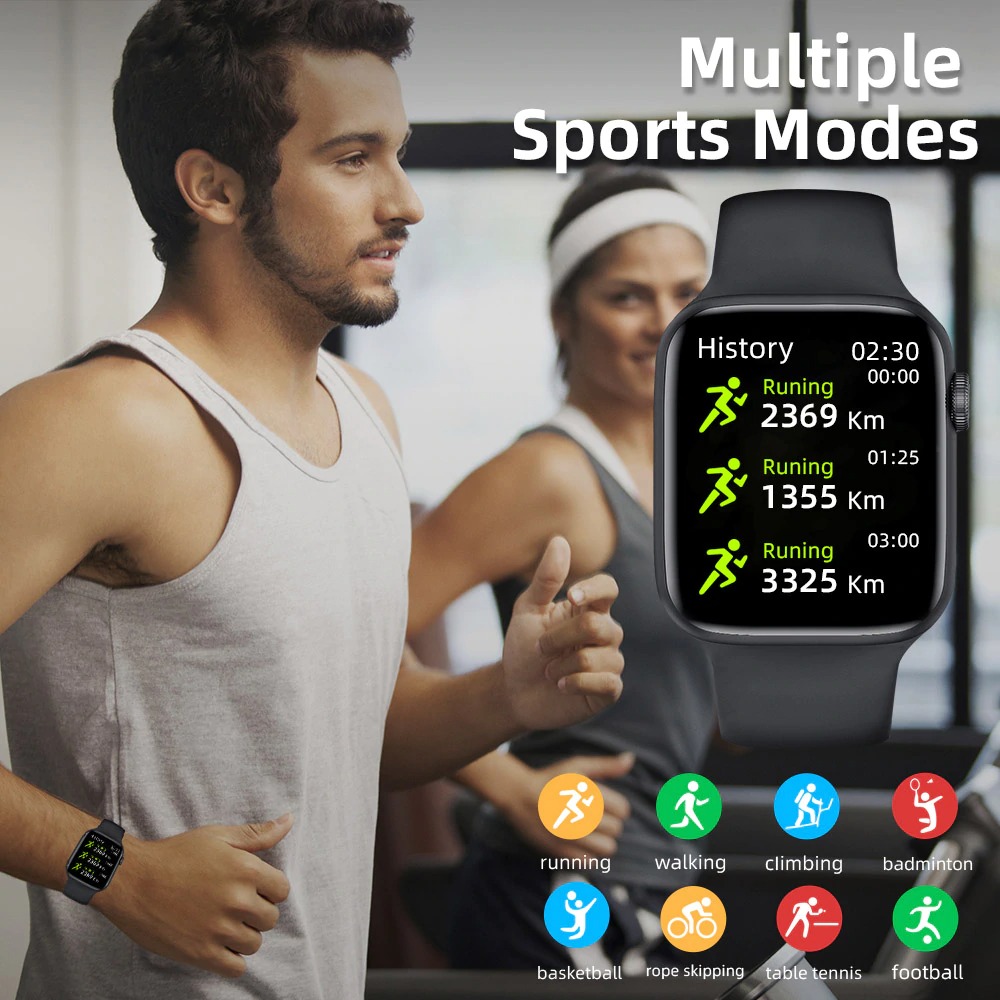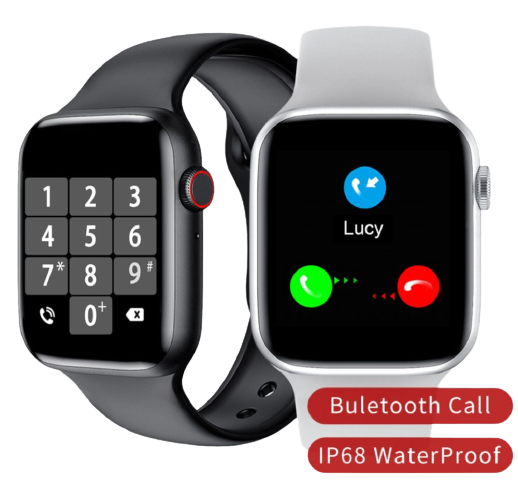 Bluetooth Functions
Calling and App Notifications After Bluetooth is connected to the phone,it can support incoming call reminder.SMS reminders and various APP message notifications (Ins/Facebook/Twitter/Gmail/Linkedin, etc.) will never miss your important news.Sedentary reminders, pedometers, music control,photo control,alarm clock, timer,stopwatch,weather,calendar and more,easy to use and comfortable to wear,make your daily life more convenient.
What Our Customers Are Saying
I used to use an Apple Watch before I lost it, so seeing the Ad on Facebook, I decided to give this watch a trial, so far so good. It's a good alternative for me personally. Grateful for the free gift.
This smartwatch is comfortable to wear and fits tight on my wrist. The setup was simple and easy to get it up and running. The app is fantastic and easy to use pairing with the app was so simple. The watch face is clear and easy to read. The touch screen works well. The watch seems to be very accurate and it does a good job of calculating my health stats while working out. I am happy with this watch it was a great value.
Love the user interface of this. It is so simple to operate both from the watch and my cell. It tracks everything and keeps me alerted to my needs or when I've been sitting for too long during the day. There's a few different watch modes to choose from but they all look very sleek and professional. I have not had to charge it yet so the battery life is super long. It fits my wrist nicely and secures without cutting off my circulation
Free 2 in 1 fingerprint Earbud For Each Purchase
Vocalism Principle: 

Hybrid technology

Control Button: 

Yes

Active Noise-Cancellation: 

Yes

Communication: 

Wireless

Volume Control: 

Yes

Wireless Type: 

bluetooth

Is wireless: 

Yes

Support Memory Card: 

No

Waterproof: 

Yes

With Microphone: 

Yes

Color: 

Black

Bluetooth version: 

5.0

Noise reduction version: 

CVC8.0

Transmission distance: 

within 10 meters

Single earphone battery capacity: 

50mAh

Charging box battery capacity: 

2000mAh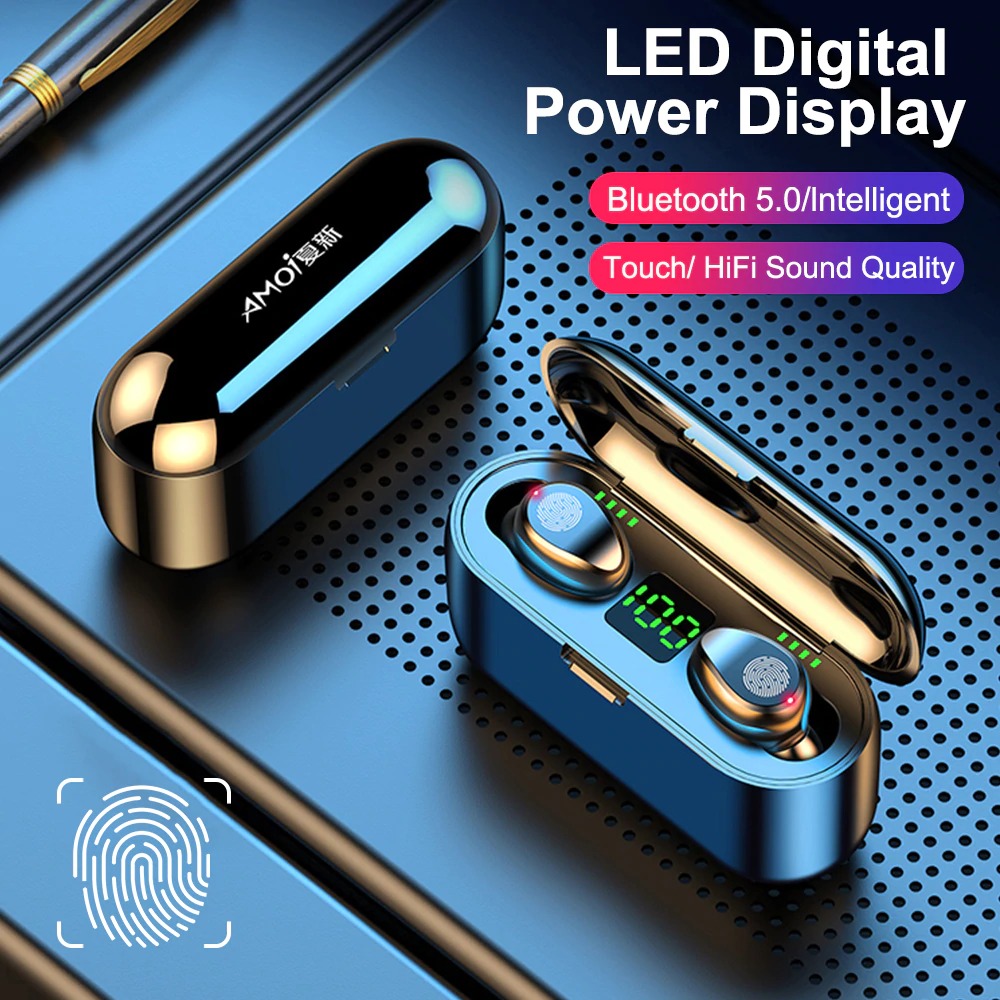 We are 24/7 available
To Take Orders our prices range from 
N18,000 – N30,000
All orders are payment on delivery-which means you don't pay until you receive the product.
No Risk money back guarantee, if what we advertised is not what you get
Don't Order if you are not ready to receive in 1-3 Working days as our Delivery services are PREMIUM
Call/WhatsApp us for more inquiries on 08138517543
Delivery within Lagos is free, while other state is charged based on location