The Vibration Machine Has Become The Must Have Fitness Equipment for 2023 Because it Works Without Causing Pain to Your Joints or Muscle
(Plus Free Resistant rope and Slimming belt worth N22,500)
Watch as your body feels better by getting your daily muscle stimulation, building strong bone density, enjoy proper blood circulation, burn calories and  many more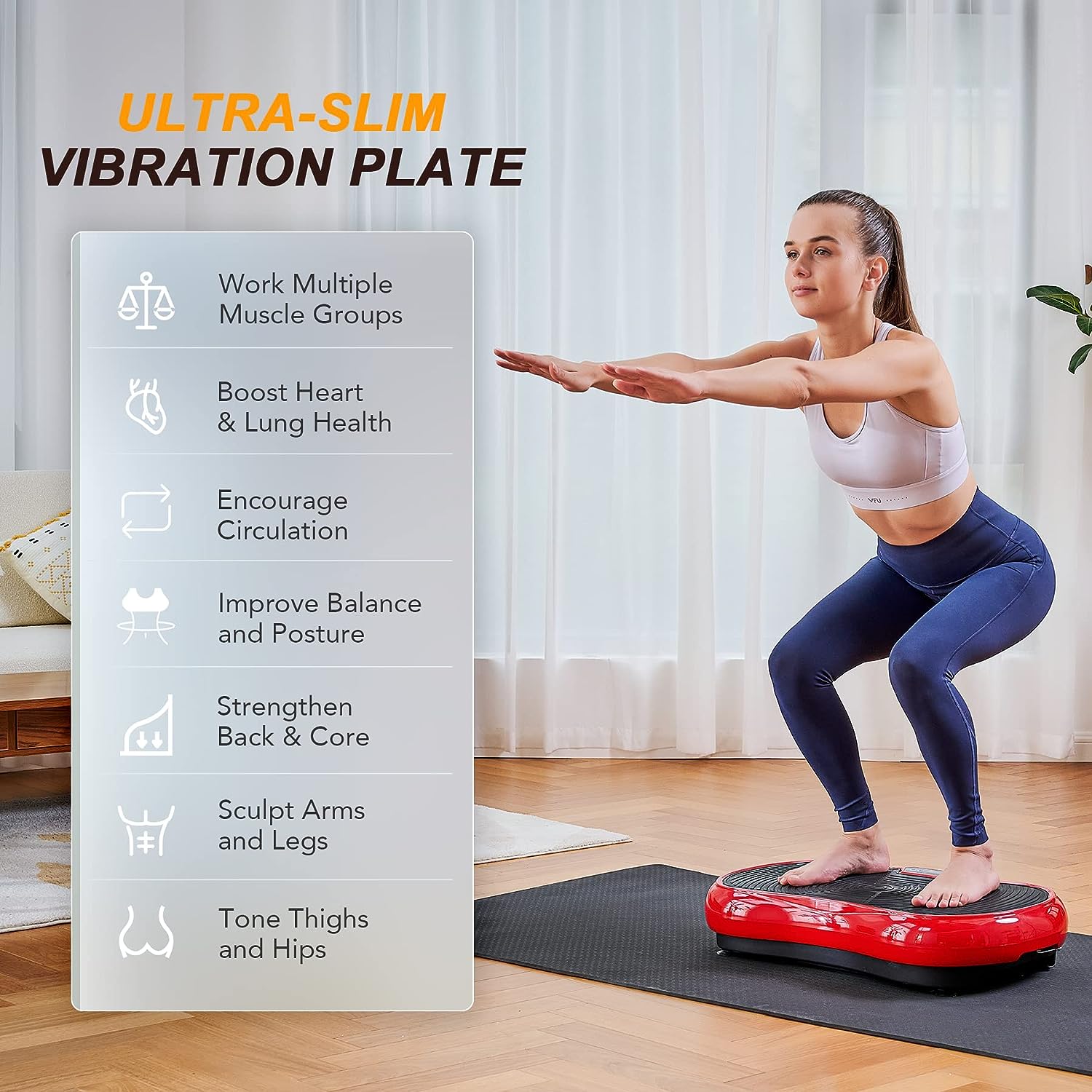 Brought this vibration plate to help with exercising without the stress & strain on my body.
I've had the plate now for 6 weeks and used it twice a day, I measured myself just to see if the inches came off. To my surprise they have and my clothes are a lot loser now, definitely worth the money. There's a remote control to choose your programs & setting you'd like to do, the instruction book is easy to follow.❤
MR. Linus Abuja Review
35% OFF
Now selling 
N110,000
Hurry few packs left + free gifts for a limited time
Try it and if you don't feel a difference, it's money back time. There's no risk.
With  Over 500,000 Units Sold Worldwide, Achieve Superior Fitness Results with Half the Time and Effort used on Traditional Gym Equipment 
Dear Sir/Ma,
Have you ever wondered why full-body vibration machines are becoming the go-to solution for achieving incredible fitness results? Are you a busy professional, executive, or entrepreneur struggling to find time for exercise? Or perhaps you're tired of feeling stressed and sore after traditional workouts?
If you've been searching for a way to transform your fitness routine without the hassle and pain, we have fantastic news for you! Introducing our game-changing WHOLE BODY VIBRATION MACHINE, designed to revolutionize your exercise experience and help you fall in love with fitness again!
Imagine dedicating just 10-20 minutes, 3-5 times per week, and witnessing astonishing improvements in your overall health and physique within 15-30 days. Our innovative machine targets pressure points on your feet, relieving back pain, headaches, insomnia, and improving blood circulation, muscle & joint pain, stress, and anxiety.
You might be wondering, "Does it really work?" The answer is a resounding YES! Medical research has proven that vibration exercises, practiced twice a week for 10 weeks, can significantly improve body composition and increase muscle strength. Furthermore, these exercises are particularly effective in reducing trunk fat and enhancing lower body muscle strength.
Our state-of-the-art Whole Body Vibration Machine offers numerous health benefits:
✅ Boosts immune system function
✅ Decreases joint stiffness and improves flexibility
✅ Enhances blood flow and oxygen delivery to damaged tissues
✅ Reduces fatigue and promotes relaxation
✅ Builds strong muscles and bones
✅ Prevents heart disease, high blood pressure, and osteoarthritis
And that's just the beginning! With our Rock Solid Whole Body Vibration Machine, you'll experience rapid muscle recovery, detoxification, improved metabolism, reduced cellulite, and so much more. This incredible device also promotes lymphatic drainage and toxin elimination through sweat, leaving you feeling rejuvenated and energized.
Don't miss out on this life-changing opportunity to revolutionize your fitness journey and achieve the body you've always desired! Take advantage of our limited-time offer and place your order today. You'll receive your Whole Body Vibration Machine within 24-48 hours, with FREE nationwide delivery.
Transform your health, boost your energy, and rediscover the joy of exercise. Order now, and start experiencing the incredible benefits of our Whole Body Vibration Machine!
"Leading physiotherapists recognize the potential benefits of vibration machines, as they can aid in improving muscle strength, bone density, circulation, and flexibility. These machines provide a unique and effective approach to enhancing overall fitness and well-being."
RECOMMENDED BY
Physiotherapists, Personal trainers, and Sports medicine specialists
For Daily Muscle Stimulation,
Better Body Shape, Strong Bone, Pain Relief
1. Do you struggle with traditional strength training exercises?
2. Are you looking to improve your muscle tone and flexibility?
3. Do you experience chronic joint pain or stiffness?
4. Are you recovering from an injury or surgery and seeking rehabilitation support?
5. Are you at risk of osteoporosis or looking to improve your bone density?
6. Do you have circulation issues or want to enhance blood flow throughout your body?
7. Are you looking to increase your overall flexibility and range of motion?
8. Do you want to accelerate your recovery time after workouts or injuries?
9. Are you interested in enhancing lymphatic drainage and detoxification?
10. Would you like to add variety and efficiency to your fitness routine?
If you answer yes to any of these…
 Our rock-solid vibration machine is the answer you've been looking for
It's pretty clear why our vibration machine has become the talk of the town
I have a vibration machine. I bought it in January. I use it every other day. I have lost weight, inches and my calves, thighs and arms are toning, slender and defined. I am diabetic and it helps with my circulatory system. No more Muscle pulls, or cramps. Love it
⭐⭐⭐⭐⭐
"As someone who struggles with osteoporosis, I was looking for a way to improve my bone density without putting too much strain on my body. My vibration machine has been a game-changer – I've noticed a significant improvement in my bone density and overall bone health since I started using it regularly."
⭐⭐⭐⭐⭐
"I've been using a vibration machine to aid in my recovery from a knee injury, and I've been amazed at how quickly I've been able to regain my strength and mobility. The vibrations have helped to increase blood flow to my injured knee, promoting faster healing and rehabilitation."
⭐⭐⭐⭐
"I was skeptical about the benefits of a vibration machine at first, but after just a few weeks of use, I've noticed a huge improvement in my overall well-being. I feel more energized, less stressed, and my body feels more toned and flexible."
⭐⭐⭐⭐⭐
"I've been using my vibration machine for a few months now and I've noticed a huge improvement in my muscle tone and flexibility. I used to struggle with traditional strength training exercises, but the vibration machine has made a huge difference in my overall fitness levels."
⭐⭐⭐⭐⭐
" As a remote worker, I tend to sit a lot mostly working on my laptop and sometimes I feel so tired with pains in my hip, it was always frustrating but the help of this vibration machine, all i need to do is to sit on it for 10-15 minutes and I am back. This should be at the home of every remote worker"
⭐⭐⭐⭐
"I suffer from chronic joint pain and stiffness, but since I started using my vibration machine, I've noticed a significant reduction in my symptoms. The gentle vibrations help to lubricate my joints and reduce inflammation, making it easier for me to move around and stay active."
Why You Should Buy From Us?
While on Jumia and konga it is sold for N150,000 – N185,220
While we are selling for just  N110,000,  because we have direct access to the manufacturer to produce the same quality at a reduced cost without lowering quality Plus a free seasonal gift and free delivery to your doorsteps
Buying from our website guarantees that you will save money plus ensure free delivery and set up for most our customers
If you are unhappy with a product, simply return it within 30 days of receiving it and we'll give you a full refund.
It's that simple.
Specifications
Material: ABS shell
Size: 52.5x31x12.5cm / 21x12x5inch
Motor power: 200W
Packing Weight: 11kg / 25lbs
Package content
1 x Vibrating platform plate
1 x remote control
2 x Resistance rope
FREQUENTLY ASKED QUESTIONS
How does a vibration machine work?
Vibration machines work by producing rapid vibrations that transmit energy to your body, causing your muscles to contract and relax. This mimics the effects of exercise, providing benefits such as improved muscle strength, increased bone density, and enhanced circulation.
Can anyone use a vibration machine?
Vibration machines are generally safe for most individuals, but it's always a good idea to consult with a healthcare professional before starting any new exercise regimen. Certain conditions, such as pregnancy, cardiovascular disease, or recent surgeries, may require special considerations or restrictions.
How often should I use a vibration machine?
 The frequency of use depends on your fitness goals and overall health. For general fitness and wellness, using a vibration machine 2-3 times per week for 10-15 minutes can be sufficient. However, for specific training purposes or rehabilitation, it's best to consult with a fitness professional or healthcare provider for personalized recommendations.
Can a vibration machine help with weight loss?
 While vibration machines alone may not directly lead to weight loss, they can be a valuable addition to a comprehensive weight management plan. The vibrations can increase muscle activation and calorie expenditure during workouts, contributing to overall calorie burn and potentially supporting weight loss goals when combined with a healthy diet and lifestyle.
Can vibration machines help with cellulite reduction?
While vibration machines may temporarily improve the appearance of cellulite by increasing blood flow and stimulating lymphatic drainage, they are not a cure for cellulite. A healthy lifestyle, including regular exercise, proper nutrition, and hydration, is crucial for long-term cellulite reduction.
Are there any age restrictions for using a vibration machine?
 Vibration machines are generally safe for individuals of various ages. However, it's important to consider individual health conditions and consult with a healthcare professional before use. Children should always be supervised when using a vibration machine.
Order for your personal Vibration Fitness Machine Today & Slimming belt for a limited time
 Get your daily required muscle stimulation, enjoy proper blood circulation, look fabulous, and build your body confidence again,  by just spending 10-15 minutes daily on fitness proven vibration machine
This Rock Solid and big Whole Body Vibration Machine is the latest in town and comes with a Year's Warranty, It is very different from the cheap fake ones out there, a trial will convince you.
Let's make you a promise, You will get your money back, if everything will advertised is not what you get, because we are that sure about the quality of this product.
And this price is just appropriate because of the enormous work that went into the engineering and production of this product
Plus the fact that it is highly beneficial for all households, especially in maintaining a fit, strong and healthy body
However, we have great news we just restocked and because you're reading this up to this point we know you are excited to get your own personal Ultrathin Vibration machine.
So, we are committed to getting yours delivered to your doorstep within 1 -3 days depending on your location for N110,000 only
Yes… N110,000 only.
All orders are payments made on delivery-which means you don't pay until you receive the product.
Don't Order if you are not ready to receive in 1-3 Working days as our Delivery services are PREMIUM
WhatsApp us for more inquiries on 08180579044
Fill out The Form Below to Place Your Order

,
No Complain 30 Days Back Money Guarantee If you do not enjoy then the product
keyboard_arrow_leftPrevious
Nextkeyboard_arrow_right
Copyright 2023, [fitnessmall.co]–
Terms and conditions | Privacy Policy | Disclaimer
This site is not a part of the Facebook website, Facebook Inc. It is also not part of the Google Website or Alphabet Inc. Additionally, this site is not endorsed by Facebook or Google in any way. FACEBOOK and GOOGLE is a trademark of FACEBOOK Inc and ALPHABET INC respectively.